A mere five years ago, China simply didn't exist in the world of para ice hockey.
And not in a 'they weren't very good' sense.
No, they literally didn't have a presence on the international scene, as the sport had yet to attract enough attention to create a team in the country.
But once they did get going, their rise has been astronomical.
The defending Paralympic bronze medalists looked the part of a medal contender in every way on Sunday afternoon at the World Para Hockey Championship as they rolled to a 10-1 victory over Italy in the opening contest for both teams.
Things were close in the early going, though, and by the midway point of the second period China only held a 2-1 lead. Three goals through the remainder of the period would give China command of the game, and they kept the pressure on in the third for the commanding victory.
"This is the first time for China to play in Group A in para hockey, so this is a very good start for our team," said Shen Yi Feng, who had five goals on the afternoon, including a third-period hat trick. "We're going to try our best to play as well in subsequent games."
Seeing Yi Feng put up that kind of offence wasn't a surprise, as he's considered one of the top players in the sport today, with his speed and skill making him lethal any time his line is on the ice,
Team Italy knew that dealing with the likes of Yi Feng and his teammates was going to be a tall order, but the way things were close early was promising,
"We know that to start against China is a really difficult start for the world championship," said Italy coach Mirko Bianchi. "The players played good into the second period, but then China grows, and we had some problems. Now we have to think about the next game, we have to play against Germany and Norway and keep the good things from this game and do our best in the end for the important games."
That Italy can be competitive on the world scene is incredible -- their para hockey program has 14 players total, and that's in the entire country. The skill is there, though, and they've risen through the ranks into the top pool of para hockey play.
"We know that we have a lot of difficulties in our country for developing the movement, so we know which games are important for us," said Italy assistant captain Andrea Macri, who added that work is always continuing on developing and growing the sport.
"We didn't play the third period as we could, but it's like our coach said, it's better to make mistakes with a good team. Now we have time to look at the mistakes and correct them."
China coach Yin Jiwu wasn't completely satisfied with how things went for his crew given how close things were early, but the result was naturally still a positive one.
"Our team had a pretty rough start, we weren't doing our best right at the beginning because we haven't been playing in the international game for a long time and just practicing at home," he said. "So we didn't do great at the beginning but it went a lot better as the game went on."
Wang Zhi Dong scored twice for China, while Xu jin Qiang, Li Hong Guan and Zhang Zheng all had single markers. Tian Jin Tao picked up two assists.
Ji Yan Zhao stopped eight shots for the win, while Italy's Gabriele Araudo stopped 11 shots in 24:44 of work and Santino Stillitano had eight saves the rest of the way.
China next faces Norway at 3 p.m. on Monday, while Italy has a day off and faces Germany on Tuesday at 11 a.m.
---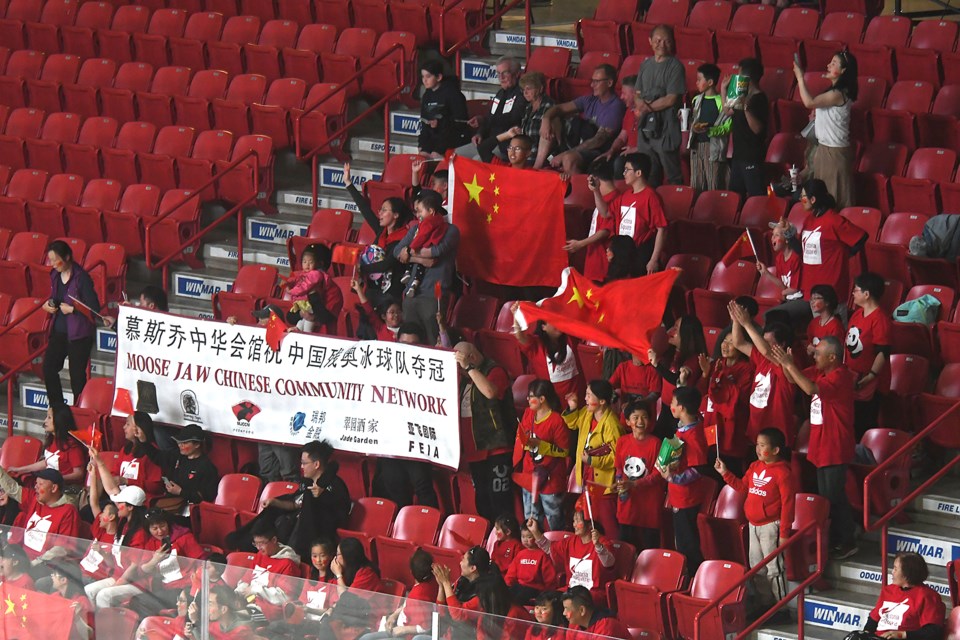 Team China had no shortage of support thanks to the Moose Jaw Chinese Community Network, which saw hundreds of fans fill the seats behind the benches and penalty box areas.
It was an extension of the support the team saw on their arrival in Saskatchewan, as dozens of supporters -- including a Chinese dragon -- welcomed Team China to the Regina airport.
Needless to say, the team couldn't express their appreciation enough.
"We travelled from very far away to play this game, as a matter of fact, we traveled 15 hours to arrive here," said coach Yin Jiwu. "But when we came here, we truly felt the hospitality, and especially from the Chinese people. It makes us feel that we are at home."
High scoring forward Shen Yi Feng felt much the same way.
"It's pretty encouraging to see so many Chinese out here to watch our game," he said. "We travelled from pretty far away so it's really cool to see so many Chinese people cheering for us. Their appearance is really encouraging for us to play well in our games."