Flying Officer Edgar James (Cobber) Kain, DFC, was a New Zealand Fighter Pilot in the RAF with 73 Squadron. (Cobber a New Zealand colloquial term meaning 'mate' or friend)
'Killer Kain' was the first RAF Ace and the first RAF fighter pilot awarded the Distinguished Flying Cross in the Second World War. His name was splashed across the pages of world newspapers. He was a celebrity; engaged to popular British Actress Joyce Phillips; they would to marry in July 1940.
By June 6, 1940, only 10 months after the declaration of War, F/O Kain had shot down 16 confirmed and 1 probable. From November 1939 to March 26, 1940 he shot down 5, two Dorniers and three Messerschmitt fighters. The Five made him an Ace.
F/O Edgar James 'Cobber' Kain, DFC, was born June 27, 1918 in Hastings, Hawkes Bay, New Zealand, on the North Island. He's leaning against a Hawker Hurricane Fighter.
Kain worked for his father and took flying lessons in New Zealand. During the mid-thirties the RAF offered 4-year Short Service Commissions to recruits who succeedrd in becoming a pilot. Kain applied to the RAF in late in 1936 and was accepted.
He travelled to England, at his own expense, for training. In March 1937 he was made a Pilot Officer. After graduating Kain was posted to 73 Squadron and flew Gloster Gladiators, later replaced with the Hawker Hurricane. Soon after war started on September 3, 1939, 73 Squadron was sent to France as part of the RAF Advanced Air Striking Force (AASF).
During the winter of 1939-40 German forces consolidated their gains and prepared for advancing westward. The time is often called the 'Phony War'.
On November 8, 1939 Kain was flying patrol. He encountered a Dornier Do 17 Bomber doing reconnaissance and shot it down. His first confirmed.
On November 23, 1939 during a successful engagement his Hurricane was shot up and on fire. His parachute was not properly attached so he made an emergency landing at Mets. He suffered burns but was able to continue flying.
By March 1940 he had 4 confirmed. Tuesday, March 26, 1940 was hectic. Kain shot down a Bf 109 and had one probable. In the process his Hurricane was severely shot-up and he was wounded in the leg by shell fragments and baled out.
With the Bf 109 confirmed he had shot down five enemy aircraft and was declared an Ace, the first Ace of WW 2. He was awarded the first Distinguished Flying Cross of the war.
He was 'gazetted' at the end of March, 1940 and the citation read:
"The KING has been graciously pleased to approve of the undermentioned award in recognition of gallantry displayed in flying operations against the enemy."
F/O Kain was granted Leave on April 2, 1940 and went back to Britain to propose to his girlfriend, Joyce Phillips, a 23-year-old actress from Peterborough. The wedding was set for July 1940 so Cobber's sister and mother could attend from New Zealand.
Kain was back in France after two weeks. He damaged a twin engine Messerschmitt Bf 110 on April 23, 1940.
The Battle of France
On May 10, 1940 German Amy Group 'A' crashed through the Ardennes and into France.
Between May 10, 1940 and May 20, 1940 Kain shot down 5 more enemy aircraft confirmed and one probable.
The stress of enemy aircraft trying to kill him took an emotional toll. F/O Kain was 'stood-down' on May 22 and sent back to England. It was a short stay. Conditions in France deteriorated. On May 25 he was back flying his Hurricane and shot down a Dornier 17. In the process his Hurricane was damaged and he made a crash landing. The next day, May 27, 1940 he shot down a high wing, Henschel Hs 126 and another Dornier 17.
The Germans rapidly advanced into France. Almost daily, the RAF Squadrons retreated west to new airfields. The troops had to be evacuated from Dunkirk.
June 5, 1940 was F/O Edgar J. 'Cobber' Kain's last Operational Flight. He shot down a Bf109. His final count was now 16 confirmed and one probable.
Kain was stood down on June 6, 1940 and told he and his Hurricane were returning to Britain on June 7, 1940. Operations in France would end soon. The Battle of France was lost.
A Party in the Officer's' Mess?
There are no official records – so this is pure conjecture, but when someone important leaves a Squadron a large send-off party is held in the Officers' Mess. It is likely F/O Kain and his mates had a rip-roaring party on the night of June 6, 1940.
On the morning of Friday, June 7, 1940 Kain climbed into his Hurricane at Échemines airfield, France. He would fly to Le Mans, pick up his kit and then fly back to Britain. In three weeks this Fighter Ace with a DFC, a war hero, would celebrate his 22 birthday and get married.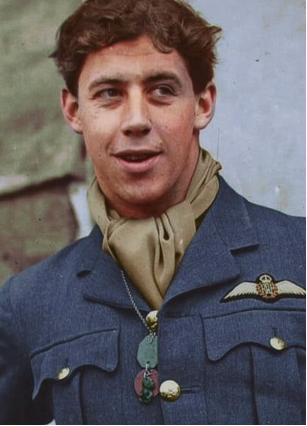 Cobber's Last Flight - Friday, June 7, 1940
F/O Edgar James 'Cobber' Kain, DFC took off from the RAF Base at Échemines, south-east of Paris.
As a celebration of his success, his joy of going home and a last salute to his mates, Kain decided to perform some unauthorized, low flying aerobatics.
Low flying was prohibited, but Kain was a celebrity. His Hurricane climbed, he kicked it into a turn and roared down low and did a barrel roll over the airfield. Gaining height and turning, he came back in the other direction and did another.
Two passes were good. Three would be spectacular! Kain's Hurricane swooped in low; he began his roll but the wingtip of the Hurricane touched the ground ever so slightly – just enough to cause the aircraft to cartwheel and crash onto the runway.
The youthful New Zealand, RAF Pilot, born June 27, 1918 in Hastings, Hawkes Bay, NZ, died June 7, 1940, at Echemines, Departement de l'Aube, Champagne-Ardenne, France. A temporary wooden cross was placed on his grave at the airfield. After the War his remains were moved to his final resting place at Chorloy War Cemetery, Lorraine, France in Plot 1A C 8.
His mother was en-route for the wedding and stayed on so King George VI could present her with her son's DFC in a private ceremony at Buckingham Palace on 4 September 1940.
"There are Old Pilots and Bold Pilots but no Old-Bold Pilots" – attributed to Harry Copland, one time RFC pilot who began flying in 1911.
Additional Note – Canadian in 73 Squadron, RAF
Pilot Officer (Pilot) Lloyd G. Bishop. RAF 41657, a Canadian, served in 73 Squadron, RAF with Cobber Kain.
Pilot Officer (Pilot) Lloyd G. Bishop. RAF 41657 joined the RAF in 1938 and served in 73 Squadron. He, like Kain, paid his way to England to join the RAF.
Bishop was born March 1, 1918 at Castletown, Ontario. He was the son of Reverend Alfred and Mary Windsor Bishop, of Castletown, Ontario.
Bishop died in the early afternoon of March 12, 1940. He, and his Flight were flying cover east of St-Privat-la-Montaigne, north-west of Metz at 25,000 feet. His Hawker Hurricane s/n N2364 suddenly went out of control and plunged directly into the ground. It was believed his oxygen system failed.
A CVWM, Picture Me Project photo of Lloyd G. Bishop can be found below.
F/O Kain References : Aircrew Remembered
Photos courtesy: "Find a Grave"