Regardless of how much space you have, it is still possible to grow at least some of the food you consume. In my garden, I grow almost everything in containers which is a habit I began when I was moving regularly and wanted to not lose the ability to grow food. I find that there are many more benefits than portability when growing in containers. Most of my containers are large tree pots that give lots of growing space for roots and can support some fairly robust top growth. As these tree pots are black they warm up more quickly in spring and as they are large, they do not need to be watered as often as smaller pots would require.
Containers can also be placed in any location. Cool loving crops allow you to place your container in an area that receives only morning sun. Crops like lettuce, radish, spinach and many other greens thrive in containers in a location not subjected to searing temperatures we sometimes get in the afternoon. With these crops it is also a good idea to do succession plantings. Train yourself to replant as much as you generally consume every two to three weeks, so your palate is always pleased with fresh new greens.
For crops that love the sun and the heat we often receive in summer can be placed in full afternoon sun areas. Tomatoes, peppers and eggplant all thrive in sheltered areas that receive full sun. Remember when transplanting out into the garden that you do not overcrowd the containers. One full-size tomato is all that I will plant as by late July and August they will definitely fill the entire pot and if more was planted then it would be necessary to water more than once daily. To help the containers seem a bit fuller early in the season, I plant some short season crops like lettuce or spring onions that will be harvested prior to when the tomato sizes up.
Who doesn't love the taste of new potatoes? Even if you don't have that extra-large garden, you can still plant potatoes. Ensure they have good drainage to ensure they stay happy and growing to their optimum. A good trick is to use a pot within a pot trick for easy harvest. Simply place a pot with a third of the sides cut out inside of the other pot and when it is time for harvest, simply remove the inner pot and potatoes are exposed without having to use a shovel.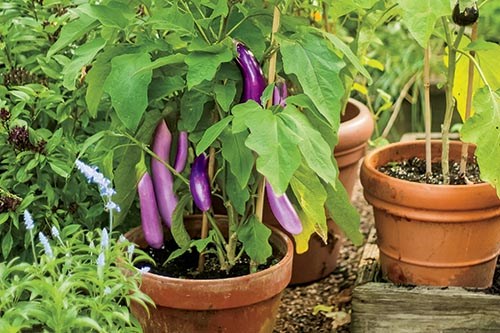 The last huge advantage of containers is that if we have some late spring snow or some early fall freezing temperatures, they can be moved inside. For me, this is a big bonus as I tend to start some of my plants a bit early so they travel into the insulated garage when inclement weather threatens and then back outside when the sun shines. I simply wheel them in and out using the large overhead door and an easy to handle mover which means that even if we are not as strong as we would like to be, we can still garden before the weather fully cooperates.
I suggest using soilless media in the containers as it will drain well and provide good anchorage for the roots. It is not necessary to change it out each and every year but simply add some new media when transplanting your plant materials. Also, remember to feed your plants either weekly with full strength fertilizer or choose to always water the containers with a dilute fertilizer solution.
Hanbidge is the Lead Horticulturist with Orchid Horticulture. Find us at www.orchidhort.com; by email at info@orchidhort.com; on Facebook @orchidhort and on Instagram at #orchidhort.
Tune into GROW Live on our Facebook page or check out the Youtube channel GROW.