Last week the focus of the column was some of the basic knowledge about apples that we can grow on the prairies and that when the fruit is pollinated there is much genetic diversity. Apples are also classified by other criteria as well.
The size of the fruit will classify whether the apple tree is a crab apple or an apple tree. Fruit that is smaller than two inches in diameter is generally classified as a crab apple while fruit that is larger than 2 inches (5 cm) in diameter is classified as an apple. There are also early-, mid-, and late-season apples. Apples that we can grow also have many different flavours from very tart to very sweet. Some are better suited to preserves, while others are fabulous to eat fresh. Worldwide, there are over 2500 different types of apples that are grown and although we may not be able to produce all of the different types, we can certainly hold our own and produce enough variety to keep any palate happy.
A good early season apple is the 'Norland' which is a good quality, medium sized, (6–7 cm) apple suitable for fresh eating or cooking. Fruit shape is oblong conic, slightly ribbed; skin has greenish yellow base colour and a 50–60% washed and striped dark red over colour. Flesh is cream-colored, tingled slightly green and slightly coarse in texture. It has good flavour with moderate acid. Fruit ripens in mid- late August and stores very well especially if picked slightly before full maturity. Trees are semi-dwarf, upright spreading and annually productive. Trees are considered hardy to zone 2a but somewhat susceptible to fire blight.
A good mid-season apple will ripen in late August to late September. 'Battleford' has fruit of 7 cm in diameter with greenish-yellow skin mottled and streaked with red. The flesh is yellowish-white, somewhat coarse, and slightly acidic. It stores for one month and can be eaten fresh, used for cooking or juicing. It has limited resistance to fire blight, and is of reliable hardiness only to zone 2a.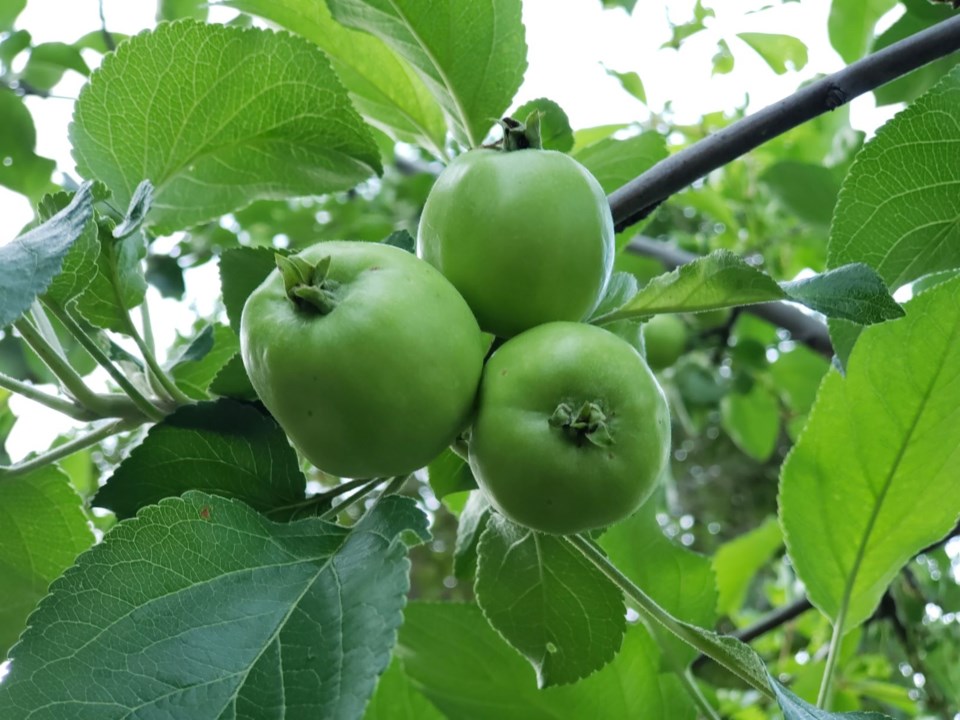 A good late season apple will ripen in late September to late October. 'Edith Smith' is a seedling of 'McIntosh' selected by Leonard Smith of Lucky Lake, Saskatchewan and introduced in 1964. Fruit is 6–7 cm in diameter, yellowish green washed with pale orange-red. The skin is somewhat tough and bitter. Flesh is greenish-white, medium texture, slightly tough and pulpy. It is fair for fresh eating and good for cooking. It will store well for up to three months. Plants are hardy to zone 2b but highly susceptible to fire blight.
'Haralson' is another late season apple that was released from the University of Minnesota in 1923. 'Haralson' has been used in much breeding work of hardy apples. Fruit is 6 cm in diameter, round to cone shaped, greenish-yellow almost completely covered with red. Flesh is slightly tough. It is good for cooking and fair for eating. It stores for up to 25 weeks with flavour being enhanced during storage and is only reliably hardy in zone 3a if growing in a protected microclimate.
'Luke' is yet another late season apple but the parentage is unknown but we do know that it originated with Mr. John Luke of Rosthern, Saskatchewan, and was introduced by the Morden Research Station in 1961. At 9 cm in diameter, 'Luke' is the largest apple that can presently be grown on the prairies. The fruit takes on a barrel shape, has a green under colour that is mottled and heavily streaked with dark red. It is fair for eating fresh, and good for cooking. It keeps for ten weeks. The tree is large, vigorous and rounded to spreading, but fruit is late to ripen, and may be damaged by frost on all but the longest seasons.
Hanbidge is the Lead Horticulturist with Orchid Horticulture. Find us at www.orchidhort.com; by email at info@orchidhort.com; on Facebook @orchidhort and on instagram at #orchidhort. Tune into GROW Live on our Facebook page or check out the Youtube channel GROW