The Moose Jaw Warriors found themselves facing more than their share of early deficits against the Brandon Wheat Kings last season in the East Division Hub.
On Tuesday night in the first game of the Western Hockey League pre-season for both teams -- and the first contest outside of Regina for both squads since the 2019-20 season -- the shoe was on the other foot
The Warriors scored three goals in a five-minute span midway through the first period and would go on to an 3-1 victory at Mosaic Place.
"I think the start was what we wanted and I was proud of the guys, the way they stuck with it," said Warriors head coach Mark O'Leary. "Obviously there are going to be some ebbs and flows as the game goes on, but I thought from start to finish we played to our identity. We attacked the puck when we didn't have it and I thought we played a pretty hard north-south game and that's a good start for the kids for sure."
Of course, the win comes with a huge qualifier. The Wheat Kings -- projected to be a serious contender for the Eastern Conference crown this season -- have no less than nine players currently at National Hockey League training camps. The Warriors were similarly shorthanded with six players at pro camp, meaning the next time the teams meet on Nov. 19, it'll be a vastly different look for both squads.
"When you have a choice you always take the win, for sure, and we're not naive enough to think we beat a team anywhere close to full strength," O'Leary said. "Brandon had a lot of guys out of the line-up and they're going to be a real good team this year. At the same time, we had some guys out of the line-up as well. So all you can do is play to the identity and how we want to play and I think as a coaching staff we were real pleased about that."
Jagger Firkus scored the Warriors' first goal of the pre-season on the power play 8:53 into the game, poking a mishandled Brayden Yager point shot under Brandon netminder Carson Bjarnason.
Slovakian import Robert Baco then made it 2-0 three minutes later, taking a feed out of the corner from Atley Calvert and ripping a shot home top shelf.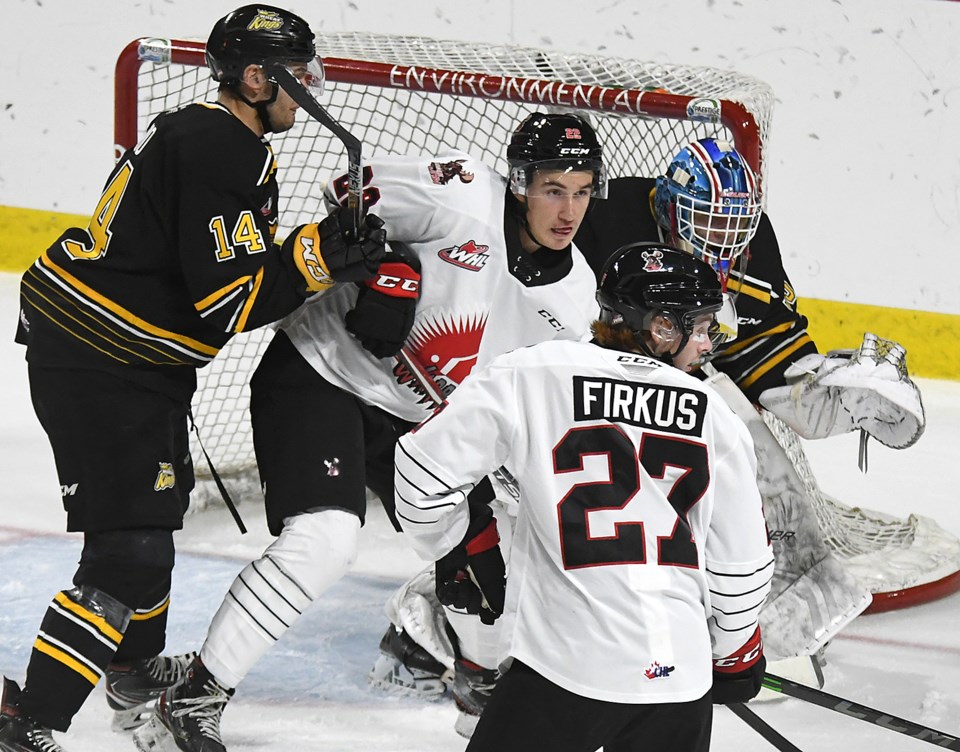 The early onslaught continued two minutes after that goal, this time when Riley Niven tipped a Denton Mateychuk point shot past Bjarnson, capping a stretch of play in the Brandon zone.
There the score remained until 2:47 left to play in the game, when Vincent Iorio's shot from the top of the face-off circles redirected in front and past Warriors goaltender Jackson Unger.
It was the first WHL contest for the 16-year-old Calgary product and a bit of an eye-opening experience even with his 18-save performance and near shutout.
"I thought it was great," he said. "It was a great first game to have the jersey on, it was going well throughout the whole game I thought and they got lucky in the last two minutes with a bad re-direct, but I thought I did really well."
O'Leary felt much the same way.
"As a coach, when you look out you just want to see a guy who makes you feel good and confident and he certainly does that," he said. "We've been real excited about Jackson and his development here in the early going, he had a real good week last week and showed us what he's capable of doing and he brought that into the game here tonight… he's confident and he's poised, you hate to see a shut-out given up late in the game, but I thought he was tremendous tonight."
Denton Mateychuk added a pair of assists for the Warriors, who had 38 shots on Bjarnason.
The Warriors are back in action Friday when they travel to Swift Current. Their next home game is Saturday when the host the Broncos. Game time is 7 p.m. at Mosaic Place.