In posts to their Twitter and Facebook accounts Aug 25, hash-tagged #skpoli, the Saskatchewan Union of Nurses (SUN) said that the health care system in the province has collapsed.
"We talk about the system being on the verge of collapse," SUN president Tracy Zambory told media. "Well, in the emergency rooms they have collapsed. The system has collapsed.
"When I have registered nurses telling me they're having panic attacks because they know they left a very critical situation in their workplace, but they already stayed three hours overtime — we have people working crazy amounts of overtime — that's not sustainable, absolutely not sustainable. That's going to lead to even more burnout, more depression, more patient harm."
Fears that the health care system could be overwhelmed have plagued the entire country over the course of the COVID pandemic. At one point, Saskatchewan was forced to send Intensive Care Unit patients to Ontario to be treated.
Questions have been raised about what form a system collapse would take. According to Zambory, Saskatchewan residents are looking at it.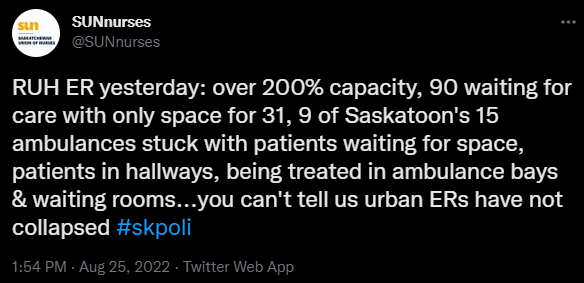 In the tweet, SUN said that the Royal University Hospital in Saskatoon is at 200 per cent capacity. The RUH is on the grounds of the University of Saskatchewan, and connected via corridor to the Jim Pattison Children's Hospital.
The thread continued from there to say that ERs across the province are severely understaffed, with nurses facing abuse, violence, and weapons threats.
"This IS system collapse," the tweet says.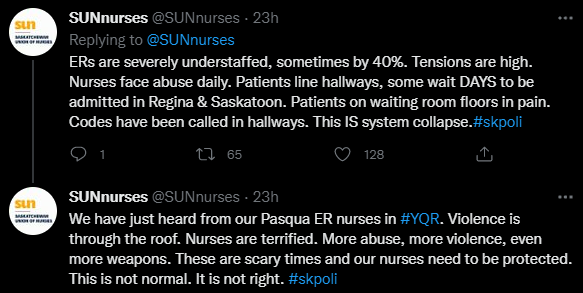 "These are scary times and our nurses need to be protected."
SUN tweeted again August 26 to say that the public needs to know how dangerous and unsustainable the situation has become.

SUN has not yet responded to a request for comment.
Follow SUN at Twitter.com/SUNnurses and on Facebook.com/SUNnurses to stay up to date.