This story will be updated throughout the night of Thursday, Nov. 24 to Friday, Nov. 25 as sixteen men from Moose Jaw spend the night outside as part of the Global 16 Days of Activism campaign and in support of the Moose Jaw Transition House.
Moose Jaw Express/MooseJawToday.com reporter Gordon Edgar is one of the participants and will be posting photos and updates from 10 p.m. to 6 a.m.
Fundraising will continue until the event ends at 6 a.m. on Friday.
If you have the means to give financial support to the Moose Jaw Transition House, donations are accepted by cash, cheque, or online at mj-transitionhouse.com/you-can-help/donate-now.
10:00 p.m.
The time has come, and the force is assembled. There have been some changes, so the revised list is:
Max Pilsworth - Moose Jaw Firefighters
Mark Gilliland - Métis Local 160
Sebasten Halvorsen - ACT Service Club
Alex Carlton - Cask 82
Adam Dowling - RBC
Arden Ausland - Mosaic
Geoff Anderson - Moose Jaw Co-op
Tim McLeod - MLA Moose Jaw North
John Iatridis - Mad Greek
Kyle Sereda - Medavie Health Services West
Joel Pinel - Vize Labs
Brett Williams - Cypress Paving
Kevin Pilsworth - Moose Jaw Police Service
Jared Mathieson - Sask Polytech
Shea Jamieson - JGL
Matt Gillies - K&S
Ira Dales - Ifrix Solutions
Eric Campbell - Lindale Elementary
Evan Neuls - General Surgeon
The mood is good, and the weather is very mild tonight.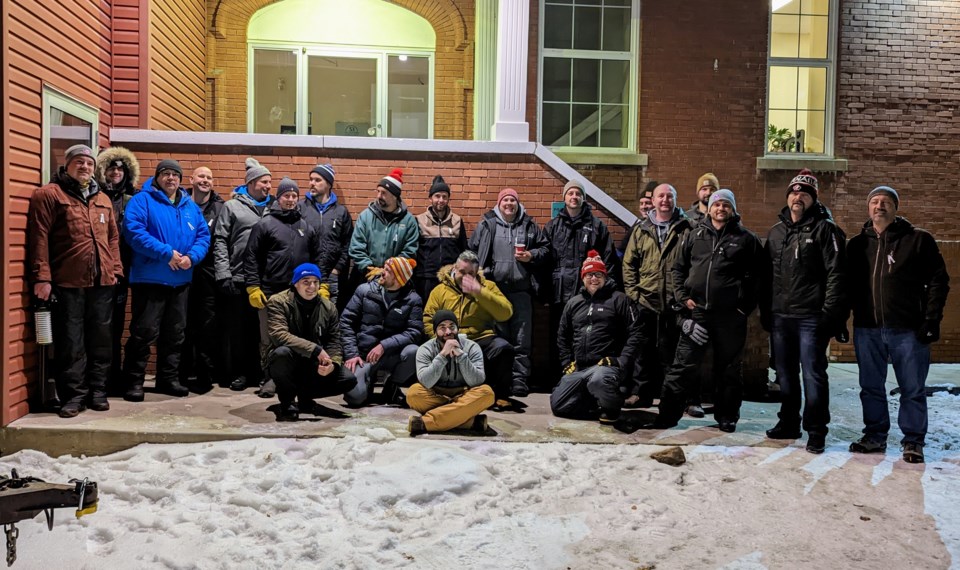 12 a.m.
Well, it's actually feeling quite chilly now. It is difficult to type, so I'm grateful it isn't colder.
Jared Mathieson has just announced that we've already raised about $45,000 - thank you, Moose Jaw.
Transition House director Jenn Angus is visiting and expressed her profound gratitude, saying the funds would make an enormous difference.

2 a.m.
It's a long night. To sleep in one's own bed is a terrific privilege that's easy to take for granted.
One conversation around the fire was on the feeling of being home. We talked about our travels, and eventually realizing the value of having somewhere to return to.
Losing that creates a wrenching sense of displacement, and even a loss of identity, until it can be found again.
I suppose that's why it's a transition house.