NDP MLA Meara Conway has released a report criticizing the Sask Party government's strategies to combat issues related to housing and social services.
The gist of Conway's report is the claim that the Sask Party government is basing its social services policies on outdated ideological beliefs rather than evidence-based solutions.
Conway is the opposition's official critic on Social Services, Housing, Human Rights, and Community-Based Organizations (CBOs). In late 2021, she went on what she termed an emergency consultation tour across Saskatchewan to speak with individuals and CBOs regarding housing and social services.
Conway's tour followed the Sask Party government's phasing out of the Saskatchewan Assistance Program (SAP) on August 31, 2021. The SAP was replaced with the Saskatchewan Income Support (SIS) program. Changes have also been made to the Saskatchewan Assured Income for Disability (SAID) program, which supports persons with significant and enduring disabilities.
SIS has been strongly denounced as a step backward by organizations and individuals including CBOs, income assistance recipients, the Federation of Sovereign First Nations (FSIN), the Saskatchewan Urban Municipalities Association (SUMA), and the Saskatchewan Landlords' Association (SLA).
In her report, Conway noted that when asked during a recent legislative session, Social Services Minister Lori Carr was unable to name any individuals or CBOs that would endorse SIS as a success or improvement.
"Across the board, this Sask. Party government has not stepped up when the chips are down," said Conway. "We find ourselves today in a position where poverty is worse and food bank usage has increased despite a period of economic growth in the province. What we need to be doing is working with those on the frontlines to find comprehensive solutions. This is what responsible governments do – they consult with those who know best."
The emergency consultation tour took Conway to Regina, Saskatoon, Moose Jaw, Prince Albert, and North Battleford. She met virtually with northern, rural, and remote communities as well. The report draws on what she heard from CBOs, service providers, income assistance recipients, Ministry of Social Services (MSS) staff and former staff, and landlords.
While Conway's report has strong words for the negative effects on individuals and families on social assistance, she also speaks to the economic implications of provincial government policies.
"This patchwork system is far more costly overall due to the expenditure of preventable resources across major systems," Conway said. "If we don't see immediate course correction from this government, Saskatchewan will continue to see an entrenchment of poverty, and the continued waste of public funds on crisis response rather than prevention."
Conway said that the Sask Party was ignoring their own 2016 Saskatchewan Poverty Reduction Strategy recommendations, which were aimed at reducing the number of residents who experience poverty for two years or more by 50 per cent by 2025. Instead, she claimed, the number of residents living in poverty has increased despite an economic boom.
Page 20 of the report says that "(a)n effective social safety net would focus on meaningfully assisting those capable of transitioning off assistance, while ensuring a life of dignity for those who cannot."
The report notes that some of those on social assistance cannot enter the workforce at all due to factors such as disability, acquired traumatic brain injuries, or severe mental illness. Others seek meaningful employment, but struggle to obtain it due to food and housing insecurity.
Conway quotes the 2016 Poverty Reduction Strategy, page 13: "Safe, affordable housing offers a foundation for people to build a future. Having a safe and affordable place to call home makes it far easier for individuals experiencing poverty to succeed in education, training, and employment."
Conway's report contains data showing that the total amounts received by people on SIS are well below the Official Poverty Line (OPL). Additional data from the Canadian Mortgage and Housing Corporation's Annual Rental Market Report for 2021 shows that even if people on SIS put their entire monthly amount towards rent and utilities (leaving nothing for food, clothing, or transportation), they would still not be able to afford average rent in Regina or Saskatoon.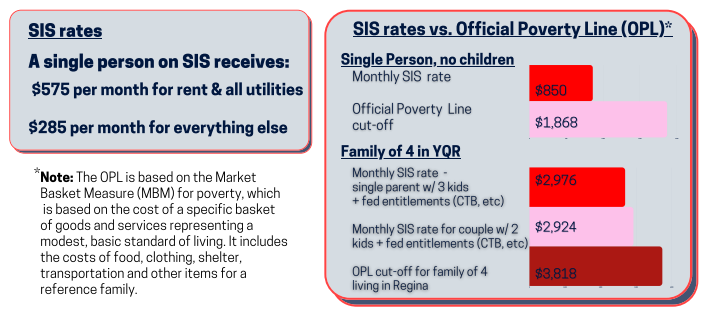 The report includes proposed solutions and several pages of references for the claims it makes.
It can be read at mearaconway.ca/report/.
Lori Carr, Minister of Social Services, said in response to Conway's report that "(t)he Government of Saskatchewan values the work community partners across Saskatchewan." Carr went on to say that changes have been made already that will better support SIS clients, and that Saskatchewan's income assistance rates are "similar – if not better – than those provided in other provinces."
Carr said that Saskatchewan's ranking in the Maytree "Welfare in Canada" report has gone up in three of four categories since the introduction of SIS, placing Saskatchewan among the top provinces in providing for basic needs.
Maytree has not yet released its 2021 report.