The Salvation Army in Moose Jaw might be famous for their high-profile fundraising and donation events around the holiday season, but that doesn't mean their work ends when the calendar turns over.
And while the coming months will be the busiest of the year for the local charity organization, it's just an extension of their continuous and ongoing efforts to make lives a little brighter in the communities they serve.
Case in point, their recent backpack program prior to the new school year kicking off.
"We had requests for 65 filled backpacks for children in September to help families who otherwise wouldn't have the supplies to go to school and each backpack averaged $65 to fill it," explained Lt. Lester Ward, who alongside wife Lt. Almeta Ward, serve as officers with the local Salvation Army branch.
"So we went out and bought all 65 backpacks, and without the community and their giving we wouldn't have been able to do that… Superstore partnered with us with donations at the store and a monetary donation and that made all the difference when it came helping these students in need."
Then there's the senior meals program that recently wrapped up and another project that will see 900 'sunshine bags' delivered to seniors homes in Moose Jaw, Assiniboia and surrounding communities closer to Christmas.
"So it's always busy for us, there are always ways we're trying to help, lots of events coming and lots for us to do," Ward said.
But make no mistake, the days, weeks and months leading up to the holidays are where the heavy work begins.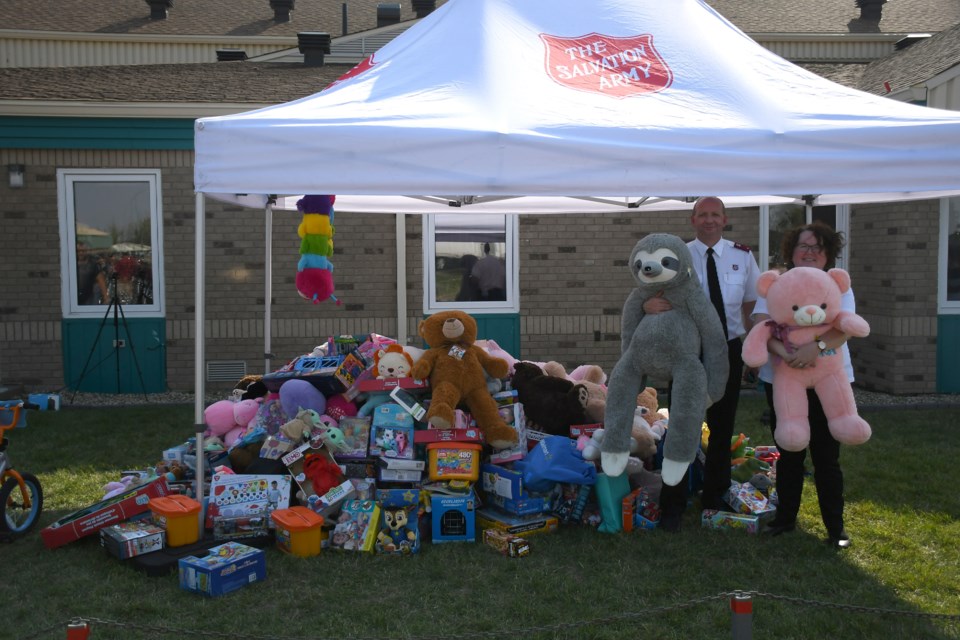 Holiday ventures well underway
It all kicks into high gear with the annual Salvation Army Toy Run, which takes place in partnership with the Moose Jaw Cycle Association and this year saw hundreds of participants drop off new and unwrapped toys at the Salvation Army Citadel back on Sept. 18.
To say the event was an overwhelming success is a vast understatement.
"Between the two rides in Assiniboia and Moose Jaw, we well exceeded what we had over last year, almost double," Ward said, adding that 339 toys were gathered in the COVID-hampered 2020 event compared to the 580 that were dropped off this year. And that doesn't take into account monetary donations, which also nearly doubled.
"It's always bee a very positive thing here in the community and even folks who didn't have bikes were showing up with cash donations and toys even before the motorcycles were showing up, which was great," Ward said.
The toy donations don't stop there, either. Next up will be the famous Teddy Bear Toss in partnership with the Moose Jaw Warriors. Fans are asked to bring a new and unwrapped stuffed animal, toques or mittens to the game on Dec. 11 against the Swift Current Broncos, and after the Warriors score their first goal, throw their items onto the ice, where they'll be gathered by players and volunteers, sorted and added to the Salvation Army's Christmas haul.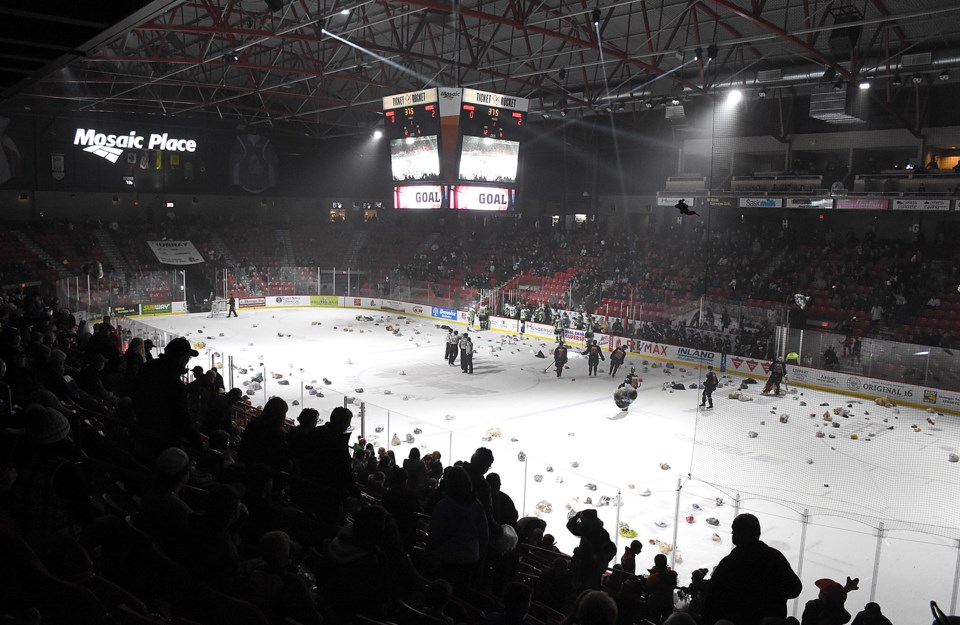 "We're pretty excited about seeing it here," Ward said. "This is our second Christmas here, and we haven't had a chance to see a Teddy Bear Toss so we're pumped and can't wait. Having said that, living in Calgary for 18 years, we didn't miss too many Teddy Bear tosses with the Calgary Hitmen, so we know what it entails and how incredible it is to see that kind of community support.
"So we know about the excitement and how much fun it is and we're hoping for a packed house… and even with a smaller venue I'm thinking it'll be a fun event."
With the 2020-21 WHL season postponed through the Christmas months, fans took part in a drive-by drop-off Teddy Bear Toss and still turned it into a successful event, bringing in 483 toys from locations at Mosaic Place and Murray GM.
"So we'll be looking for all the support we can get both in support of the Warriors and giving back to the community," Ward said.
Kettle Campaign
Beyond toy donations, one of the major fundraisers for the Salvation Army is also one of their most famous -- the annual Kettle Campaign, which sees donation spots set up at businesses throughout the community, raising thousands of dollars for their many causes.
Things kick off on Nov. 22 and will run for a five-week period leading up to Christmas Eve.
"Last year we had seven or eight kettles out and we're looking to do a little better this year," Ward said. "The people in Moose Jaw and surrounding area have always been very generous and supportive when giving back to the community.
"And it's important that everyone knows that what's given stays in the community, it goes to support the needs of the community, whether it's food or toys or clothing, whatever it may be. And the generosity is just amazing."
The biggest challenge when it comes to the Christmas Kettle campaign -- and many of their ventures -- is finding enough volunteers. Folks can man the donation stations for two-hour shifts, and the Salvation Army is looking for as many people as they can find to help.
"If there are people out there who would like to volunteer, we'd like them to reach out to us," Ward said. "This isn't about the Salvation Army, this is about being able to serve the community and be the hands and feet of Jesus and help people who would otherwise go hungry and without clothing and toys. This is community-driven, all hands on deck and we hope to have everyone who can help out."
Those who wish to serve can call the Salvation Army Community and Family Services office at (306) 692-5899 for more information and to sign on.
Ward also made a point of thanking the business community for their support throughout the Kettle Campaign and beyond.
"They let us set up our kettles, they donate, they support and sometimes they match contributions, like with the backpacks," Ward said. "We really appreciated Superstore partnering with us there, then there's Safeway and Co-Op and Walmart, they all come along on the journey as we go through the Christmas season."
The Toy Shop
It all leads into one of the most heartwarming and positive events of the Christmas season.
Last year, the Salvation Army took a different approach to distributing donated toys to the community. Rather than simply hand out gifts to families, the Wards opened a 'Toy Shop' in the Citadel hall, giving parents a chance to choose their own toys for their children.
With thousands of offerings on hand, it was essentially Christmas toy shopping for free -- and something that turned into an incredible experience for all involved.
"It was amazing last year, the reception we had for that," Ward said. "It created so much dignity for the moms and dads, being able to walk into a facility and select toys for their son or daughter that they would love. And we make sure confidentiality is followed, right to a tee, so the parents can feel good about the entire process."
And make no mistake, the Toy Shop will exist because of one important reason.
"The generosity of the community is what gives us the opportunity," Ward said. "It's amazing, it's always amazing."
One Year in Moose Jaw
The Wards have now been a part of The Salvation Army of Moose Jaw for just over a year, having first arrived on Aug. 17, 2020. While they were cadets in the organization at the time, through hard work while maintaining their ministry both were commissioned as lieutenants this past June.

That means they'll have more time to spend in the community and work on their myriad of projects on a continuous basis.
"Our first year here last year, we were still continuing our university learning remotely while we were here in Moose Jaw," Ward said. "Now we have a little more freedom from the courses and studies, and that allows us to become a lot more involved in the community. We're excited, we want to be a part of the hamper interview process, we want to be a part of the Toy Shop more than what we were in the past… just being out there and more involved in everything."
One thing they've noticed in their time in Moose Jaw is just how much support the community gives to charitable organizations and how willing just about everyone is to lend a hand.
"Moose Jaw and Assiniboia and the surrounding area, the love and appreciation and respect of people, it's like it's a small-town environment even though it's a city," Ward said. "Everyone seems to want to help out and step up when help is needed, and we couldn't ask for anything better. We love the people in these communities, and it's not very often when you ask people to step up that you don't see someone step up."
Keep On Keeping On
Once the holidays have passed and the new year is here, things will only slow down marginally at the Salvation Army.
There's still the thrift shop and sorting centre to run on top of their regular charitable efforts.
And it never stops, not as long as there are people in need.
"The thing is, everything is hectic and busy, but as soon as you hit January, the Christmas season is behind us and planning already starts for another year," Ward said.
"If toys or donations come in after December, that's all going back into the community… The needs of the community don't just happen at Christmas, there's always a need for food, for clothing and the necessities of life, every day of the year. And any donations that come in allow us to continue to do things throughout the course of the year.
And leads into the most important part of it all.
"What's given stays in the community, goes to support the community and help the community and it will always be that way," Ward said. "Everything we receive, it's in and it's out and wherever the needs arise we want to be there to support, help and assist and we're not going to turn people away when they need support and assistance."
For more information on the Salvation Army of Moose Jaw, be sure to follow their Facebook page at www.facebook.com/TheSalvationArmyInMooseJaw/ and their website at www.salvationarmy.ca.