For Educational Purposes
Part 2
1942
Hong Kong Veterans Become POWs
Beginning in January 1942 the Canadian survivors of the Battle for Hong Kong became Prisoners of War of the Japanese. A Total of 264 would die while Prisoners of the Japanese.
Growing Fear and Anxiety
After the Japanese bombed Pearl Harbour, Hawaii, on December 7, 1941, a fear that the Japanese Imperial Army would attack the West Coast of North America intensified.
The fear was somewhat unfounded, but Canada had been at war with NAZI Germany since September 1939, for more than 2 years and now, as an Ally of the United States, Canada was now at war with Japan. Canadian men and women were overseas fighting and at home, many worked in supporting the war effort.
War had put Canadians 'on edge'. They directed unfound fears against Japanese Canadians living on the West Coast.
Japanese Bomb Dutch Harbour
On June 3 and 4, 1942, six months after Pear Harbour, an Imperial Japanese Naval force attacked the Aleutian Islands (American Territory) in what was thought as a preparation for the invasion of American Territory. Japanese aircraft bombed Dutch Harbour.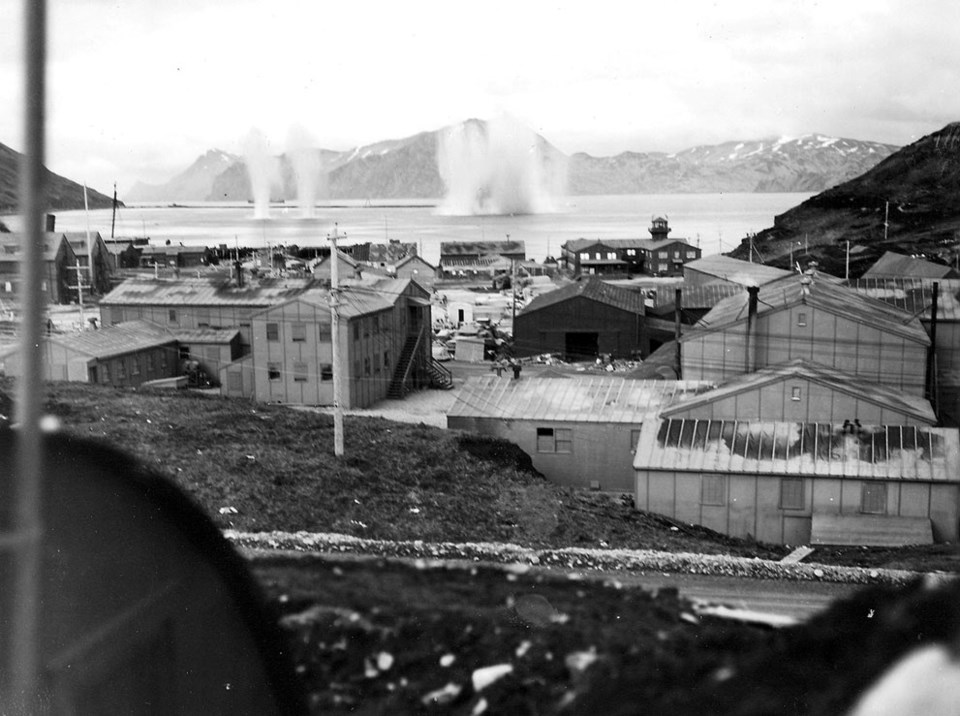 Japanese Invade Attu and Kiska Islands, Part of the United States
On June 6 and 7, 1942, Japanese forces landed on and captured Attu and Kiska islands, the first and only invasion of the United States by Japan. They established a garrison and the Islands remained in Japanese hands until a joint force of Canadians and American re-took them on August 15, 1943.
Japanese Shell Estevan Point, Vancouver Island
On June 20, 1942 Japanese Submarine I-26 shelled the Estevan Point Lighthouse on the west coast of Vancouver Island. On the same day Japanese Submarine, I-25 shelled parts of the Oregon Coast.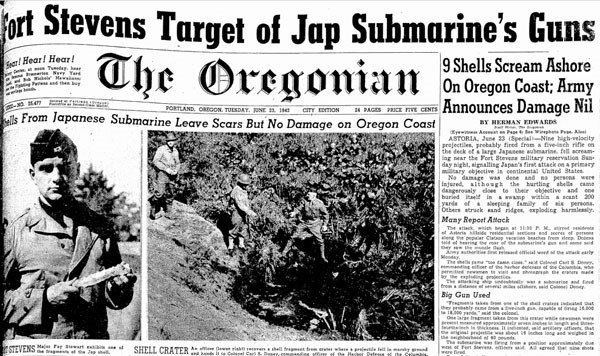 Canadian Response
The Alaska Highway
In Response the Canadian and American governments constructed the Alaska Highway in 1942. The highway, starting at Dawson Creek, B.C., connected the 'lower' United States in the south by road with Alaska. Canada also constructs fortifications along the West Coast.
RCAF Fighter Squadron 111F
In 1942 to United States ask for RCAF support in Alaska. On June 11, 1942, the RCAF Fighter Squadron 111 moved from Patricia Bay (Victoria) to Elmendorf Air Force Base, Anchorage, Alaska where they flew their Curtiss P-40E Kittyhawks Fighter in support of American operations.
This unique Thunderbird Totem symbol was presented to the Squadron by the local Chief of the Saanich First Nation in March 1942 while the Squadron was stationed at Patricia Bay. It was incorporated into their logo.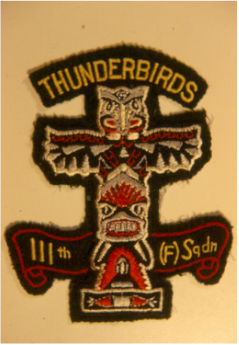 Tragedy at Umnak
On July 16, 1942 a Flight of 6 P-40 Kittyhawks were ordered to fly from Cold Harbour for Umnak, the Aleutian Islands. Weather was unpredictable. The destination became cloud covered. Four Kittyhawls crashed into the top of a hill near the destination. One turned out to sea and was never seen again. Only one, the Flight Commander, made it to Umnak.
Flight Sergeant Stan Maxmen, R/100245, Age 20 from Moose Jaw, Saskatchewan was one of the 4 killed on the hillside. The airmen were killed on impact.
Flight Sergeant Stanley Ray Maxmen was the son of Ole and Annabelle Maxmen, 803 Main Street N., Moose Jaw and the husband of Edythe Elsie 'Chesworth' Maxmen, 1115- 4th Avenue NW, Moose Jaw. They had been high school sweet hearts at Central Collegiate and had only been married a few months.
Since Flt. Sgt. Maxmen was killed in a Foreign country, the U.S.A., his remains were never returned to Canada. He is buried at Fort Richardson Post Cemetery, Anchorage, Alaska.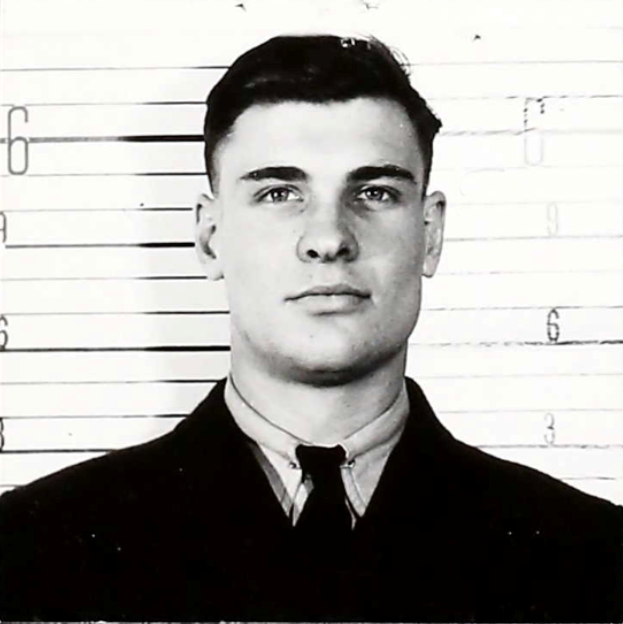 Canada Enacts War Measures Act – Japanese Canadians Internment Begins
Canada initiated a program for the forced removal and internment of Japanese Canadian from the West Coast. More than 21,000 people of all ages were involved.
Canadian Newspapers stirred animosity by printing bias and hateful comments.
Internment of Japanese Canadians
Beginning in 1942, many, many Japanese Canadians were interned in 'camps'. These Camps were mostly in abandoned towns and villages in the British Columbia Interior. For example, some were sent to Greenwood; some to Tete Jaune Cache; and some to Sandon and New Denver in the Slocan Valley.
Those on the Lower Mainland were 'routed' through the Exhibition Grounds in Vancouver before being sent to other locations.
New facilities were built in New Denver to accommodate 1,500.
Approximately 21,000 Japanese Canadians were moved from a 'buffer zone' along the West Coast. Some went to Albert where they worked on sugar beet farms.
My relative, John Sekia, was interned. He was sent to Red Pass Junction near Jasper, Alberta to work on the railway, and then, later, transferred to Tete Jaune Cache, B.C. After time spent there he moved to Raymond, Alberta where he worked on a sugar beet farm. Mr. Sekia eventually bought his own farm in Southern Alberta where he raised his family. He retired in Lethbridge.
The property of the Japanese Canadians, such as fishing boats, was sold and the Federal Government kept the money to off-set the cost of internment.
No information was found indicating any Internee died during internment. This may be incorrect.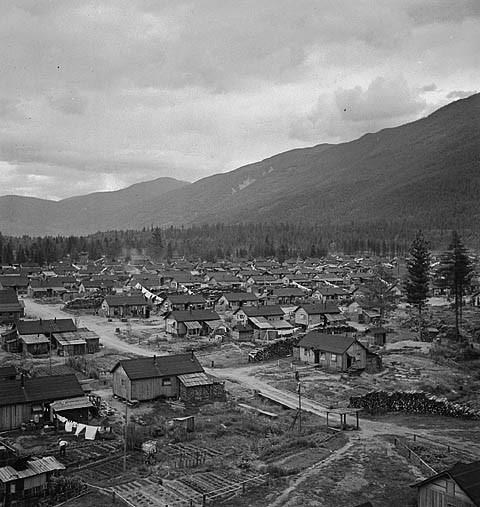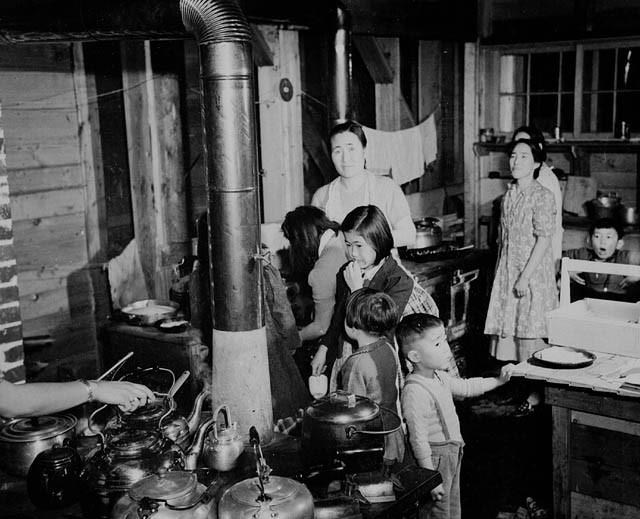 World War One – Internment of Ukrainian Canadians
Internment Not a New Idea – It was used during WW 1
Internment of citizens thought to be a threat to Canadian security was not a new. It was used in World War One.
Those Interned were mostly new immigrants from Western Ukraine, part of the Austro-Hungarian Empire that was at war with Canada. The people were often referred to as 'Austrian Ukrainian' because they came from the ethnically diverse regions of Galicia and Bukovyna.
About 80,000 had to register and 'report' regularly. Over 8500 were placed in Canadian Internment Camps between 1914 and 1920 and of these, some, like Mary Manko Haskett, a child at the time, were born in Canada.
The Canadian Encyclopedia writes that 107 died in captivity; some from suicide, and 6 were shot trying to escape. There were riots. It was very difficult for these people who fled Eastern Europe for a better life in Canada to be locked in camps.
A large camp was located at Eaton, Saskatchewan, on Highway 7, about 20 Km southwest of Saskatoon, on property now shared with the Saskatchewan Railway Museum.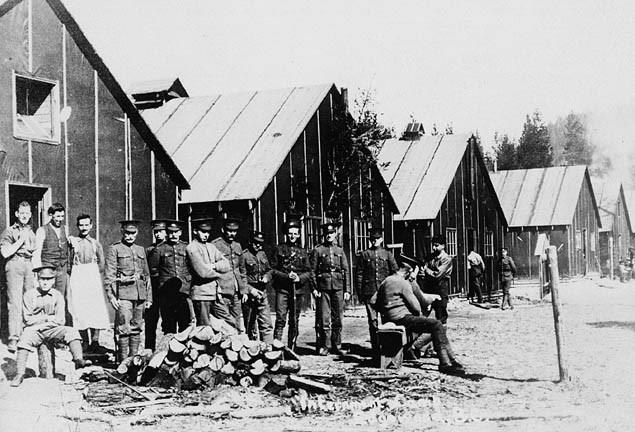 After World War 2 – Japanese Canadians Request Reparations
The Idea of Reparations Was Controversial
The Position of the Liberal Government of Pierre Trudeau
In 1984 Japanese Canadians negotiated with the Liberal Government of Pierre Trudeau for compensation for property sold without their consent and for time spent in Internment Camps. In a speech on June 29, 1984 Trudeau is quoted as saying, "I do not see how I can apologize for some historic event to which we… were not a party. We can regret that it happened."
Trudeau went on to ask where such claims for compensation would end. He used the examples of the Chinese Head Tax or the Ukrainian Canadian Internment. (The Canadian Encyclopedia)
The Conservative Government of Brian Mulroney
In 1988 the Conservative Government of Brian Mulroney signed an agreement with the Japanese Canadians to pay compensation for interning them and selling their property. Each survivor was given a payment of $21,000. Another 12 Million was set aside for Human Rights Projects and the Government gave an official apology.
The Hong Kong Veterans Association Receive Reparations
The 1988 the Conservative Government of Brian Mulroney settlement with Japanese Canadians motivated the Hong Kong Veterans to demand compensation. The feeling was, if the Japanese Canadians deserved compensation then they did too.
After five years of negotiations, in 1993, the Canadian Government awarded each surviving member of "C" Force and their widows, $24,000.00. They also received 100% pension coverage and an apology from Japan. Japan did not provide any compensation.
Internment of Ukrainian Canadians in WW I Recognized
In 2005 "The Ukrainian Canadian Restitution Act", based on 'Bill C-331' which stated, "to recognize the injustice that was done to persons of Ukrainian descent and other Europeans who were interned at the time of the First World War." (Canadian Encyclopedia)
A 10 Million Dollar Fund was established to recognize the experience.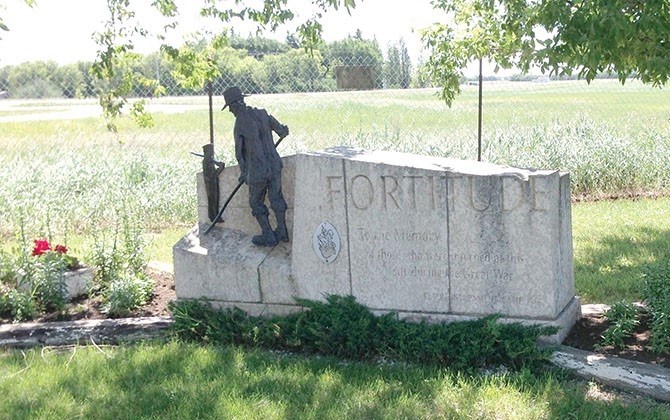 Wars end. There are no winners. There is no Glory.
The views and opinions expressed in this article are those of the author, and do not necessarily reflect the position of this publication.