We were on the way home from northern Alberta and mutually agreed to drive south, way down to the old family farm in the semi-desert region.
The crops looked great all the way south into the Jenner region. In March I had gone through the area but missed seeing the farm.
That huge old landmark barn was gone thanks to a plough wind in 2008.
This time we spotted the long line of trees and pulled in, flanked by fantastic wheat and durum crops — better than I'd ever seen there.
The Hutterites renting from my nephews have done wonders in this dry region.
Looking at the old Eaton's catalogue house, damaged by wind with a windmill twisted around part of it, flooded me with memories — good and bad.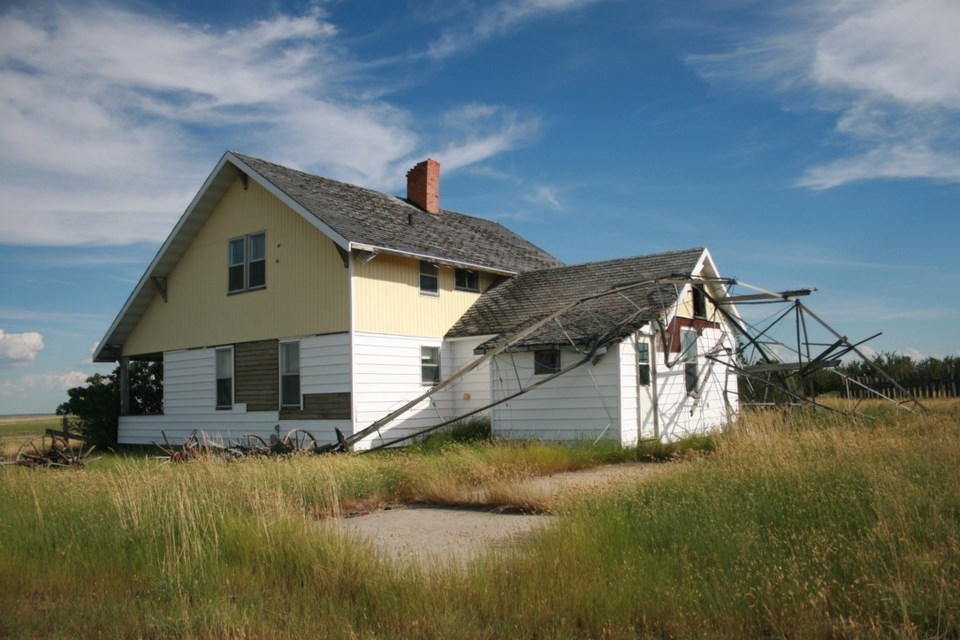 This was where I was repeatedly told I was not going to be a farmer, thus no cowboy boots, no driving a tractor, truck or horseback riding.
This was where my brother and I played where I wandered 1,300 acres of pasture examining rock piles and speculating on why owners of three homestead sites pulled up stakes.
I don't try to go in the house, wanting to remember it as it once was.
The garden, slightly larger than a city block, has been taken over by crested wheat grass. About two-thirds of it used to be in potatoes, peas, carrots, beans, beets, cabbage with a large patch for pumpkins, watermelons and musk melons.
I recalled shelling peas into a washtub on the back porch, then my mother and aunt canned them on a coal stove in summer heat.
The row of fruit trees — pear, apple, two crabapple, two plum— only revealed bleached skeletons of trees planted in the 1920s.
The porch was site of many happy times from branding parties with 30 to 40 people enjoying food and beer, in the shade on a hot summer day.
The combined machine shed/grain elevator, damaged by a plough wind, was deteriorated and abandoned.
A concrete pad covered the two cisterns used to hold water for the house. The concrete was no doubt to discourage rattlesnakes from the cisterns.
About 30 years ago rattlesnakes first appeared on site, arriving in May and slithering away by mid-June.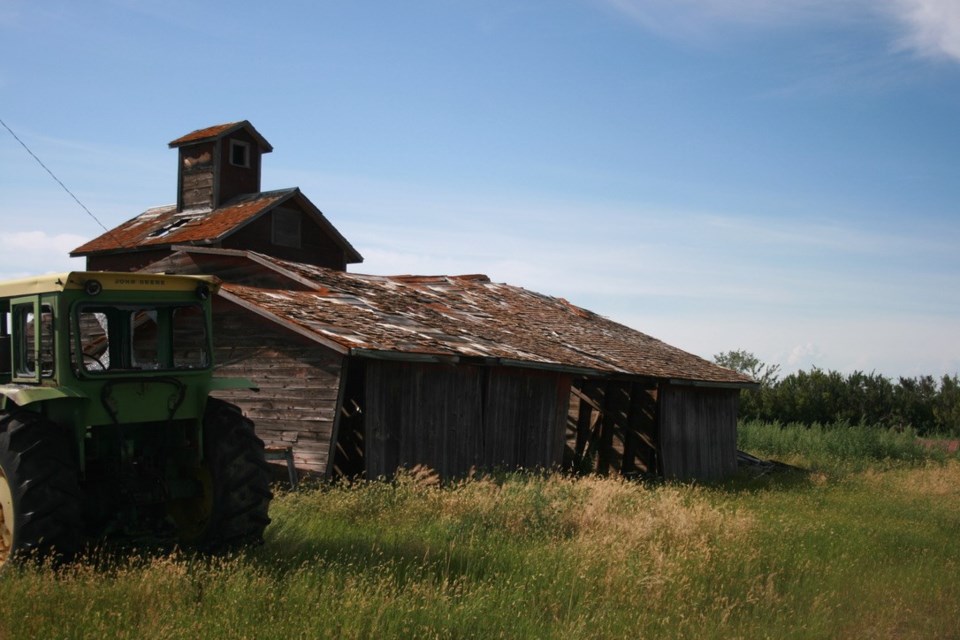 My Partner, remembering the snakes, stepped gingerly from the car into the almost knee high grass.
We took a few photos, looked around and left.
There was a time when I couldn't get out of here soon enough to see what the world had in store for me.
Now I think it would be so nice to come home and spend the night in the second floor room with the dormer window, listening to howling coyotes, and waking in the morning to rays from the rising sun.
At my age every day, week, month and year left is a bonus. Returning this day was a no-brainer. It could be my last visit.
Ron Walter can be reached at ronjoy@sasktel.net
The views and opinions expressed in this article are those of the author, and do not necessarily reflect the position of this publication.