Using your garden as part of how you stock your larder is always a great idea! We may not be able to grow mangoes or bananas but we can grow some pretty great and unique fruits!
The latest fruit that you just have to grow is the haskap. This is not a new fruit as it has been grown for ages in Siberia. They are a member of the honeysuckle family but have been bred for fruit production. The berries themselves are oblong and turquoise in colour with a flavor somewhere between and Saskatoon, a black currant and a blueberry. They are very hardy and have no real disease problems. However, you need to grow more than one variety to ensure fruit set. It is also a challenge to pick them before the birds do and yet still have them fully ripe and ready for harvest.
The fruit itself is ready just before the strawberries are ready to harvest, giving a great head start of the harvesting of fruit. There are a few cultivars that seem to bear more fruit with a better taste. My favourites are Berry Smart ™ Blue and Berry Smart ™- Belle.
Rhubarb is also a very versatile edible vegetable for early in the year. It is a great source of vitamin C and iron and is wonderful as juice or used in your favourite dessert crumble. The best rhubarb to grow in my opinion is the red varieties so try 'Canada Red' for a hardy, productive cultivar. Share your rhubarb dishes with friends from warmer climes and amaze them with this great vegetable!
Strawberries that are grown in your garden are exquisite! The regular strawberries purchased in your local grocery store are a poor substitute for the "real" thing! They are easy to grow but it is best if you plant them as roots rather than seeds once the soil has warmed in the spring. I always grow some strawberries as annuals and yes – in containers. As I do not really plant much in the ground anymore, I can still enjoy strawberries all summer long without being on my hands and knees!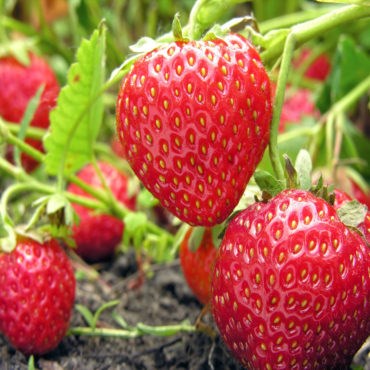 For home owners it is best to grow "day neutral" strawberries as this type of strawberry will give you a crop to harvest throughout the summer and even into the fall. They are termed day neutral as they will produce regardless of the length of day which means a longer picking season. Alternatively, June-bearing strawberries will give you a flush of production once in summer with no long term picking needed. June- bearers are typically the largest size of fruit and are thus popular with commercial growers. They will produce for a few weeks and for the remainder of the season be just vegetative with no fruit. One other type of strawberry is the everbearer. Cultivars like 'Earliglow' are everbearing and will produce two crops each season. So choose the type of picking you would like and then choose the cultivar that suits your picking schedule. A good day neutral to grow is Tristar while a good June-bearer is Kent.
I love to pick fruit from my garden and enjoy providing an alternative food source for my family that is home-grown. It is just wonderful to go out into the garden and pick high-quality fruit that
Hanbidge is the Lead Horticulturist with Orchid Horticulture. Find us at www.orchidhort.com; by email at info@orchidhort.com; on Facebook @orchidhort and on Instagram @orchidhort. Tune into GROW Live on our Facebook page or check out the Youtube channel GROW