The Moose Jaw Under-17 A Ice made history when they won the Softball Saskatchewan provincial championship this past weekend in Regina.
The Ice became the first Moose Jaw team in their age group to claim the title in recent memory, an accomplishment that capped off an incredible campaign filled with tournament wins, including a victory in their own event back at the end of June.
Here's a look at how they got the job done during the July 23 weekend, from their first game of the round robin through to their victory in the gold medal game.
Moose Jaw 10, Regina Fighting Saints 2
The Moose Jaw Ice had their offence rolling along in high gear right from the opening game of the tournament Friday night, even if things were close in the early going.
Leading 3-2 through two, the Ice scored four runs in the fifth and added another three in the sixth to invoke the mercy rule, with a bases-loaded triple off the bat of Ashley Breitkreuz finishing things off.
Breitkreuz was 3-for-3 with two runs scored while Macy Litzenberger went 2-for-4 with a pair of runs batted in and Cassia Montgomery 2-for-2 with a double and two RBI.
Canada Summer Games Team Sask member Katie Newberry turned in one of many impressive pitching showings for the Ice on the weekend, allowing two runs on two hits and striking out 10.
Moose Jaw 9, Saskatoon Raiders 0
The Ice didn't need a whole lot of time to get things wrapped up in their second round robin game, scoring five in the first, another in the second and three more in the third to once again invoke the mercy rule.
The top of the order had a great outing, with lead-off hitter and Team Sask member Makena Simmons going 3-for-3 with three runs scored, Litzenberger 3-for-3 with double, run scored and RBI and Jasmine Kohl 1-for-3 with a double, two runs and three RBI.
Breitkreuz was once again perfect at the plate, 3-for-3 with three RBI and Hailey Molde had a double while scoring a pair of runs and knocking in two.
Ava Unser made few mistakes on the mound, allowing only two hits over her five innings of work.
Moose Jaw 16, South East Sun Devils 2
Moose Jaw got right to work in their first game on Saturday morning, with an 11-run third inning bringing things to a quick end with their third-straight mercy-rule win.
It was Litzenberger's turn to lead the offence, putting together a 3-for-4 outing and knocking home five runs. Simmons also had a solid showing, going 3-for-4 with two runs scored and four RBI. Newberry was 1-for-1 with three runs and two walks.
All told, the Ice had every player except for one record a base hit, including Breitkreuz, who was 1-for-1 with two walks and two runs to sit 7-for-7 at the plate through three games.
Unser got the win on the mound, allowing two runs on four hits over the three innings, striking out four and walking six.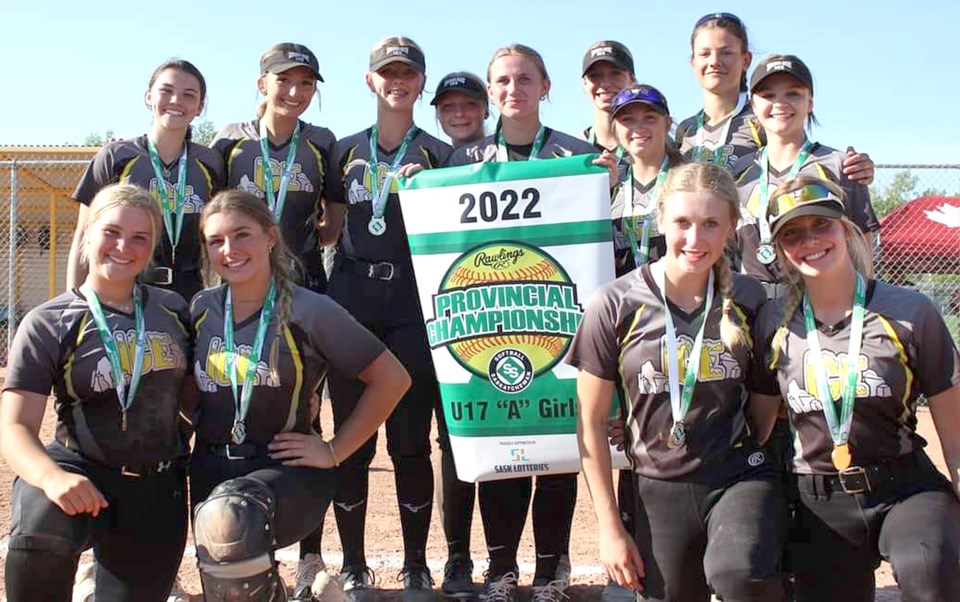 Moose Jaw 16, Saskatoon Phantoms 8
The Phantoms managed to give the Ice a bit of a battle in the final round-robin game, trailing 8-6 through three innings and 10-8 after four, but Moose Jaw tacked on two runs in the fifth and four more in the sixth to put things away.
Each of the Ice's top four hitters had 4-for-5 showings, with Simmons scoring three runs, Litzenberger scoring three and knocking in four while hitting a pair of doubles, Molde hitting a triple while scoring three and knocking in three. Kohl also had a solid game, going 3-for-5 with an RBI.
Molde also got the start and allowed six runs, none earned, on seven hits in three innings. Kohl pitched the final three frames and surrendered two runs on three hits.
Lumsden 4, Moose Jaw 3
After finishing in first place in their pool, the Ice advanced to the semifinal with a chance to move on straight to the championship game in their first game Sunday morning.
Facing the Lumsden Cubs, Moose Jaw led 2-1 heading into the bottom of the sixth when the Cubs would put up three runs to take the lead. The Ice got one back in the top of the seventh and would load the bases before falling just short.
Litzenberger had another perfect game at the plate with a 3-for-3 outing that boosted her tournament batting average to a rather decent .789. Simmons was 3-for-4 with a run.
Newberry tossed the complete game, allowing four runs on six hits, striking out seven and walking two.
Moose Jaw 10, Saskatoon Raiders 3
That sent Moose Jaw into a semifinal rematch with the Raiders, with the Ice falling behind 3-2 in the top of the fifth but promptly coming back with five runs in their half of the inning and invoking the mercy rule with three more in the sixth.
Litzenberger was 3-for-4 with two runs and two RBI, Breitkreuz 3-for-4 with three RBI.
Unser started and allowed three runs on four hits, walking five and striking out three; Newberry tossed a scoreless sixth.
Moose Jaw 9, Lumsden 5
That all led to the gold medal game, and sure enough, the Ice had a host of players step up offensively when they most needed it.
Aubrey Clarke led the way with a 4-for-4 showing that included a double and four RBI as Moose Jaw scored five runs in the second, and led 6-2 through four before holding on for the championship win.
The Ice would crank out six doubles in the game, including a pair off the bat of Callie Klemenz, while Camryn Rusu was 2-for-4 with a double and a run. Simmons and Litzenberger were both 2-for-4 with two runs.
Unser started and allowed three runs on nine hits in five innings; Newberry finished things off allowing two runs on three hits over the final two frames.
The Ice now have a few weeks to prepare before heading to the Canadian U17 A Championship in Montreal from Aug. 17-21. The team is currently on a fundraising blitz for that journey, and have set up a GoFundMe. You can check that out and donate by clicking right here.
And be sure to check back for more on the Ice in the coming days at MooseJawToday.com.