If Cornerstone Christian School competitor Ademide Adewumi wasn't already on the provincial radar as an up-and-coming star in the shot put and discus, she's most definitely there now.
Adewumi was the standout in an absolutely stellar showing for Moose Jaw and South Central athletes at the Saskatchewan High School Athletic Association track and field championships in Saskatoon during the June 3 weekend, setting a new record in the intermediate girls shot put on her way to winning gold.
The win was one of six gold and 23 medals in total -- one of the top showings for South Central in recent years -- and one that saw the district finish in fourth place overall despite having one of the smaller populations.
While you can never expect to set a provincial record, for Adewumi, that was almost the case heading into provincials. All season long, she'd set one record or another in qualifying meets and she'd make no mistake on the biggest stage of all.
First of all, Ademide's 12.45-metre effort was almost two metres better than her next competitor -- meaning a six-foot-tall person could have laid in the pit with their feet at the second-place finisher's mark and Ademide still would have cleared their head.
As for the provincial record itself, Ademide added 96 centimetres to the old mark of 11.54 metres set by Saskatoon Bethlehem's Brynn Bohmann in 2018. Interestingly enough, Ademide would have won gold in both the junior and senior girls divisions by nearly two metres, set a new junior girls record and finished a metre behind the senior girls provincial mark set by Canadian Olympian Taryn Suttie in 2008.
Ademide also finished in sixth place in the discus.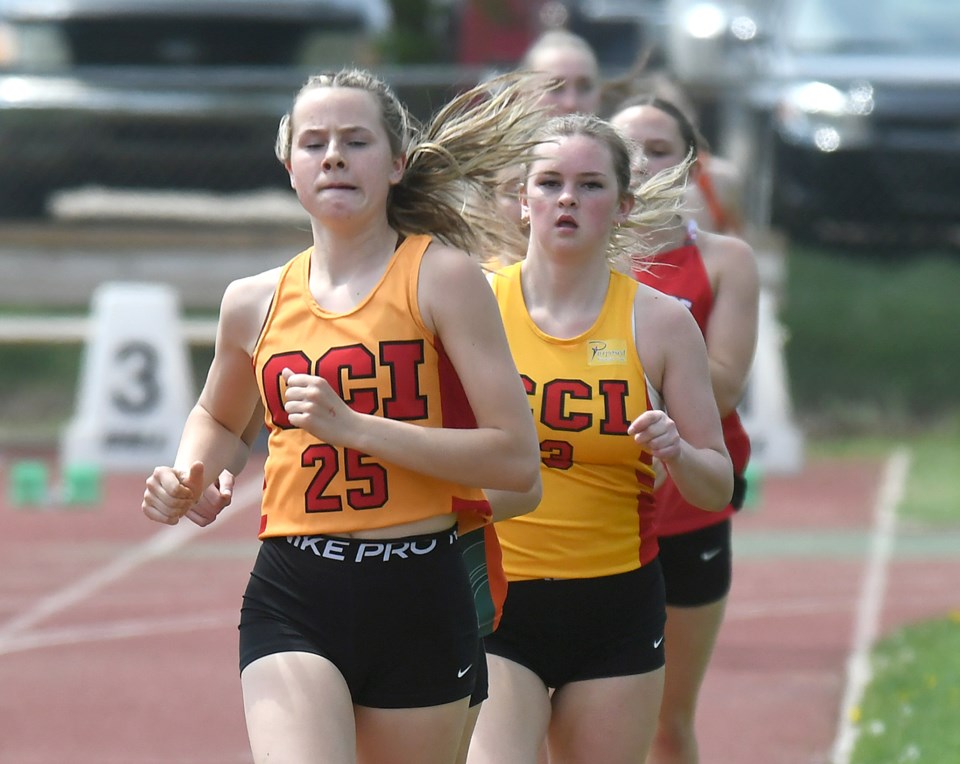 For all that success, Ademide was arguably eclipsed by the showing Central competitor Katie Rogers put together.
The Cyclones junior won two gold and a bronze in the distance races, with Peacock competitor and South Central teammate Nikolina Kapovic right behind her for silver in both gold medal wins.
Rogers took top spot in the junior girls 1,500 metres in 4:53.47 and followed up by winning gold in the 3.000 metres with a time of 10:42.09. She then finished third in the 800 metres in 2:24.31, giving her the junior girls overall aggregate title.
Kapovic -- who set city and district records in the 3,000 m -- won silver in both the 1,500 and 3,000, finishing two seconds behind in the former and eight seconds back in the latter.
Reigning senior girls cross country champion Jadyn Palaschuk is now the reigning senior girls 3,000 metres champion, with the Central competitor crossing the line in 10:41.84 to claim top spot. Palaschuk finished her weekend with a complete set of medals, winning silver in the 1,500 metres in 4:54.65 and bronze in the 800 metres in 2:24.07.
Also winning gold for South Central was Lafleche's Jerzey Watteyne, with the Sask Female AAA Hockey League standout winning the quadathlon with 1937 points.
Assiniboia's Brett Knudsen claimed gold in the senior boys high jump, putting together a 1.91-metre effort.
Central's Javin Boynton was unable to win an event in his slate of junior boys competitions, but ended up coming home with the overall aggregate title just the same, thanks to a trio of silver medals.
Boynton was second in the 100 metres in 11.37, followed by a 23.60 in the 200 metres and wrapped up his run of medals with a 12.13-metre throw in the shot put.
A trio of youngsters also won silver medals in the intermediate triple jump, with Keaton Belsher clearing 12.04 metres and Blake Maltais 10.56 metres. Zayden Anderson rounded out the run of South Central silver with second in the 100m hurdles in 14.24 after also setting city and district records in the run-up to provincials.
Glentworth's Katherine Robichaud won a pair of bronze in the junior girls discus (25.71m) and shot put (9.41m), while Central's district record-setter Paul Barth was third in the senior boys shot put (12.39m), Central's Emily Lin won bronze in the intermediate girls triple jump (10.06m) and Vanier's Waverley Demassi landed third in the junior girls javelin (30.49).
The 4x100m relay team of Watteyne, Peacock's Jessica Selensky and Kylie Howe and Briercrest's Danae McCroy also won bronze.