On Tuesday I received a phone call from a friend in Northern Alberta telling me her 24-year-old granddaughter was diagnosed with Multiple Sclerosis in 2021. The MS story never ends.
Researching the Cause of MS Since October 2015
I have reviewed world wide research on the Cause of Multiple Sclerosis since October 2015.
The Cause of Multiple Sclerosis was identified by Rutgers's University Neurologists Dr. Stuart Cook MD, and Dr. Peter Dowling, MD in 1977. Their Hypothesis holds that;
Multiple Sclerosis is caused by Canine Morbillivirus, better known as Canine Distemper Virus (CDV).
In most cases the Virus is contracted during Puberty. It can be contracted later in life if the immune system is compromised by medical treatment, such as Chemotherapy, and the pathogen is present.
I interviewed 29 People with MS and confirmed these circumstances.
FACT: Canine Distemper Virus is a Variant of the highly contagious Human Measles Virus.
Multiple Sclerosis and Canine Distemper Virus both result in Demyelization
Marc Vandevelde and Andreas Zurbriggen compared MS and CDV. Both cause Demyelization. (SEE Their 2005 research, "Demyelination in canine distemper virus infection: a review".) These authors recommended MS researchers look at CDV
Challenges Faced Testing for Antibodies
In 1977 Antigen Tests were the only tests available to Cook and Dowling. These tests were not reliable. PCR Testing was the eventual solution. PCR Test development mirrored DNA Testing. The PCR test for Canine Distemper was perfected by Andy Mee et al in 1998.
Dr. Andrew Mee et al, of Manchester University, UK used "in-situ RT Polymerase Chain Reaction (In Situ RT-PCR)" testing in his research into the cause of Paget's Bone Disease. Mee et al identified the presence of Canine Distemper Virus in 100% of his samples.
Other Examples that Prove the Cook and Dowling Hypothesis
These Countries have a low to non-existent rate of Multiple Sclerosis and do not have a tradition of keeping indoor pets – China, South Korea, rural Sub-Saharan Africa.
These People have a low to non-existent rate of Multiple Sclerosis and do not have a tradition of keeping indoor pets – Hutterites; Indigenous Canadians living on Reserves and Inuit, Torres Straits Islanders.
Much of this information is confirmed by 'funded' MS research by Harder (U of S), Lawrence, Warren (U of A) and Marrie (U of Man.) and other members of the 'Canadian Collaborative Study Group'. Some researchers suggest Genetics as a factor. The identified people are genetically and racially different. The common factor is no tradition of keeping indoor pets.
Outlier – More Proof
The Netherlands has almost no cases of Multiple Sclerosis – about 1 case in 100,000 population. For comparison, Southern Alberta has 330 case per 100,000. Germany, next door to the Netherlands, has 149 cases per 100,00 and Denmark is at 250.
Why so low? The Netherlands has strict pet ownership laws – Vaccination and a licence is required and the annual licence is expensive, about $200.00 Canadian.
Summary
In 1977 Cook and Dowling hypothesized the Canine Distemper Virus Caused MS.
Marc Vandevelde and Andreas Zurbriggen confirm CDV and MS cause demyelization.
In 1998 and 1999, Dr. Andrew Mee, PhD. et al used PCR Testing and working on Paget's Bone Disease, proved Humans can be infected by Canine Distemper Virus (Morbillivirus).
Prevention of MS
Prevent MS by eliminating Canine Morbillivirus (CDV). Vaccinate indoor pet dogs and cats and farm dogs. Veterinarians provide this service and explain when Booster Shots are required.
Pet Ownership is Delightful
Pets provide companionship and comfort. Vaccinate them against Canine Distemper Virus.
Conclusion
Overwhelming information suggests Multiple Sclerosis is caused by Canine Morbillivirus (CDV), a Variant of the infectious Human Measles Virus. Most infections occur during puberty.
Be a good Pet Owner. Even if you don't agree with the science, Vaccinate indoor pet dogs and cats and farm dogs and cats.
Hope
BioNTech continues working on a Therapeutic – no new treatment – yet.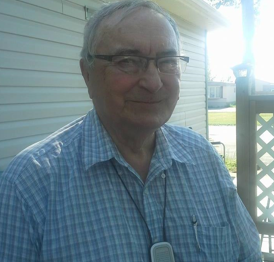 Memorial Dedication – Roger Butterfield, Moose Jaw
This Annual Review is dedicated to the memory of Roger Butterfield, the last true Renaissance Man. Roger supported my MS research, accompanied me on road trips and introduced me to wonderful Hutterites who confirmed they do not keep pets.