For Educational Purposes
References: "Above and Beyond – The Canadians' War in the Air, 1939-45", By Spencer Dunmore, Published by McClelland and Stewart Inc., Toronto, 1996 ISBN 0-7710-2928-4
The 1977 movie, "A Bridge Too Far", directed by Richard Attenborough, tells the story of WW II 'Operation Market Garden'.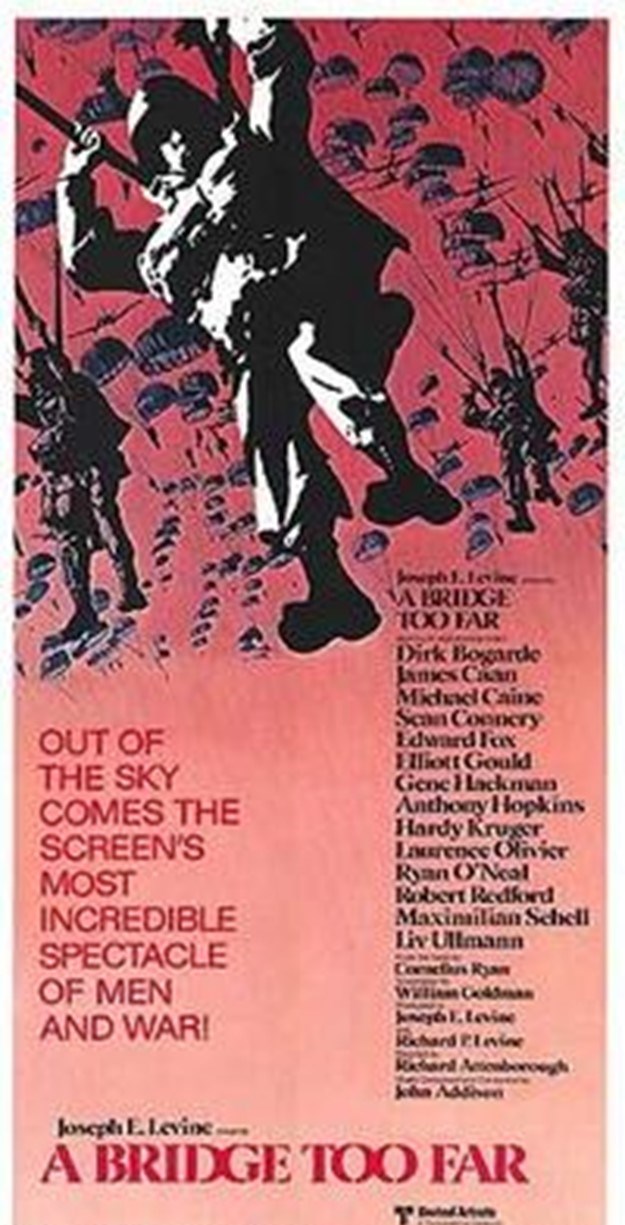 By late August, 1944, in operational command circles there was a sense of excitement. They thought the War was almost over. They thought the Germans were beaten.
The feeling was not shared by either the Germans or the Allied troops at the front line.
British General Bernard Montgomery orchestrated a bold plan called Operation Market Garden. The plan was to capture bridges over the Rhine, primarily at Arnhem, the Netherlands.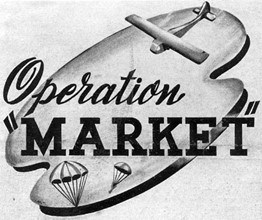 Allied Paratroopers and soldiers in Gliders, towed form England, would land behind enemy lines, far ahead of Allied Forces advancing from Normandy. They would capture important bridges and prevent the escape of German troops across the Rhine and back into Germany. The captured bridges would open a corridor for advancing Allied troops and armoured divisions into Germany.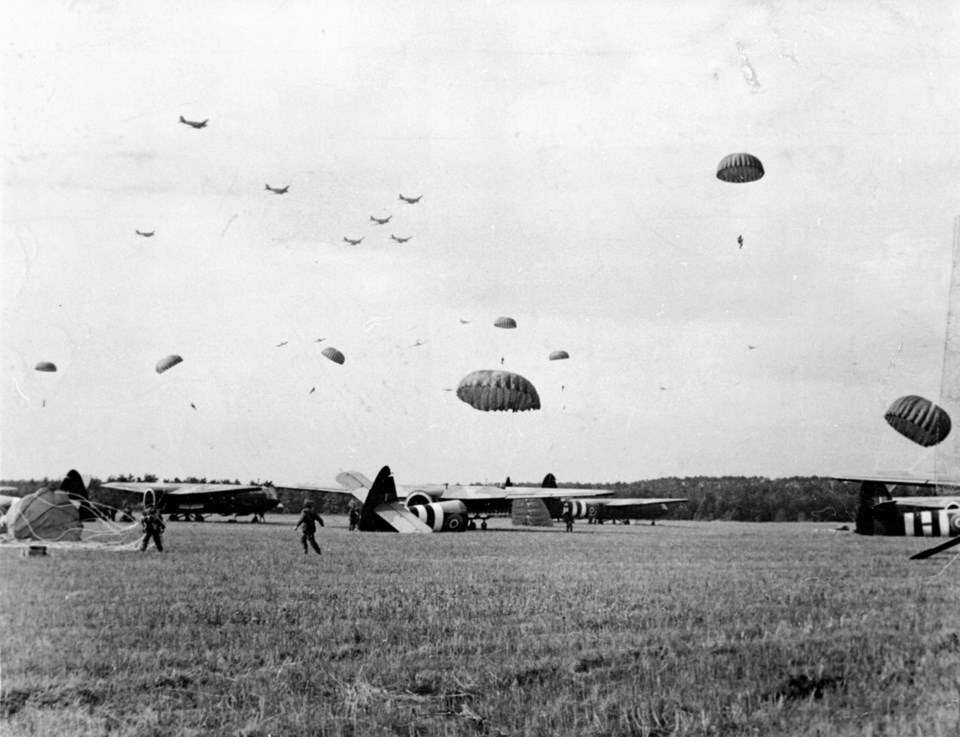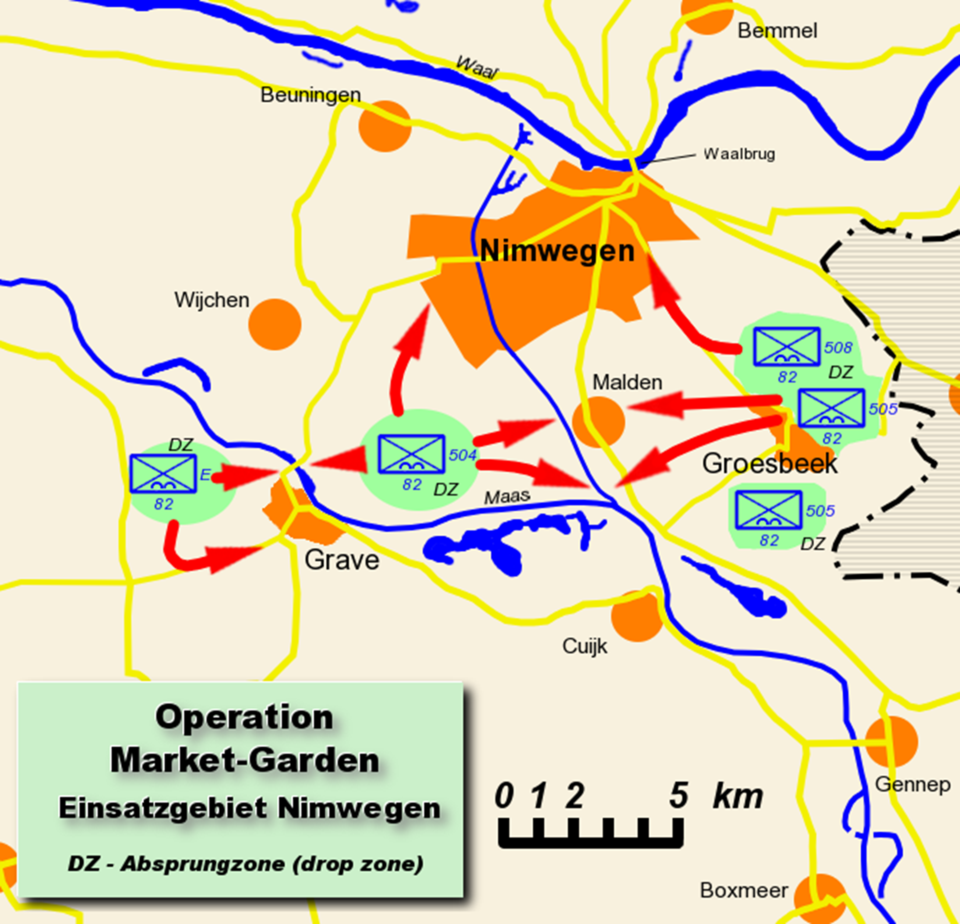 Operation Market Garden began 79-years ago on Sunday, September 17, 1944. It was over on September 27, 1944.
Operation Market Garden was a colossal failure.
Dunmore points out that the Tactical Air Force was "… banned from attacking targets of opportunity …" during the operation. This was a huge blunder. The Tactical Air Force had been helping advancing Allied troops since they landed at Normandy and constantly moved forward with ground forces, operating from new, temporary advance airfields. The Typhoon fighter-bomber ground attack aircraft was a huge asset, assisting and supporting ground troops at great risk to themselves. Some Typhoon squadron's personnel losses were more than 100%. Not allowing the Tactical Air Force to support troops and attack targets of opportunity meant a significant fighting element was not available for Operation Market Garden.
Generals thought the TAF would cause 'friendly fire' incidents. This assumption was baseless.
Adding to the challenge, the Operation was controlled from London by U.S. General Lewis H. Brereton who U.S. General Arthur MacArthur called "…an incompetent nincompoop…".
It was not the first time in history a 'nincompoop' oversaw a military operation and, one assumes, will not be the last.
Operation Market Garden began at 0700, Sunday, September 17, 1944. Men had their breakfast, went to their aircraft began 'forming up' at 10:15 AM. RAF Stirling Bombers and Dakotas were rigged to tow the wooden Horsa Gliders. American Dakotas towed Waco Gliders.
There were 477 aircraft and 334 Gliders involved in the operation. It was a risky business. Some Gliders broke loose and crashed into the English Channel. Not all personnel could be moved in one wave. Two waves, over two days, were required.

Commentary by Flight Lieutenant Russell "Rusty" Bassarab of Moose Jaw
Taken from: "Above and Beyond – The Canadians' War in the Air, 1939-45", By Spencer Dumore – McClelland and Stewart Inc. – Toronto – 1996, ISBN 0-7710-2928-4
Russell "Rusty" Bassarab, R.C.A.F. Navigator in 299 R.A.F. Squadron was from Moose Jaw, Saskatchewan. 299 and 196 Squadrons, RAF, were stationed at Keevil, England. Bassarab and his mates had been busy dropping SAS fighters and supplies to 'insurgents' on the ground behind enemy lines. They were experienced.
For Operation Market Garden 299 Squadron RAF and 196 Squadron RAF towed Horsa Gliders and then air-dropped supplies to the troops on the ground fighting along the Rhine River.
Flt. Lt. Russell Nicolas Bassarab Notes
Flt Lt Russell Nicolas Bassarab, RCAF of Moose Jaw, Saskatchewan, received a significant Dutch Award and was Mentioned in Dispatches Twice. He was given the Awards for Operation Fabian, which was the dropping and supplying of S.A.S., primarily Belgian paratroopers who were to "… provide information about German troop movements and locations of V2 installations between September 19th, 1944 to March 14th, 1945. (See notes blow)
Operation Market Garden: Description
More supplies were dropped on Wednesday, September 20, 1944. "… And again on Thursday, the 21st. For Bassarab (a Navigator on a Stirling) and his crew that was the most eventful day. Bassarab said, 'As the last container dropped away … all hell seemed to break loose.' The lumbering Stirlings were boxed in by heavy flak. The rear gunner's fire could be heard as a dry rattle above the din of the flak and engines. The skipper, Davy Davidson, hurled the big Stirling about in his efforts to evade the murderous flak. He was only partially successful. The Stirling lurched as shot after shot struck home. Remarkably, no serious damage had so far been done." Page 323
"'As we looked back,' says Bassarb, 'the area seemed to be full of flak and aircraft. It was a terrible spot and we were glad to be out of it. I wondered what sort of battle the airborne men were having and I knew it must have been terribly tough.'
"Their Stirling was out of action for days while the battle damage was repaired.
"A Canadian pilot with Bassarab's unit, Karl Ketcheson, of Parry Sound, Ontario, refused to drop his supply containers on his first run over the dropping zone, being dissatisfied with his approach. He tried again and was killed by machine-gun fire.
"The Arnhem Operation Market Garden could have been a success but instead it was a disaster.
"On September 24, the British troops began their withdrawal. Just over two thousand managed to escape across the Rhine (river), some swimming to freedom. About one thousand airborne troops had died in the hapless action; an appalling total of about 6,000 became prisoners. The 1st Airborne Division (U.S.) had been destroyed." Page 324
Special Awards for Flight Lieutenant Russell Nicolas "Rusty" Bassarab
Reference: Bassarab, Russel Nicolas - TracesOfWar.com
Dutch Award
Citation: "Flight Lieutenant Bassarab has taken part in numerous operations over enemy occupied Europe and Especially Holland both in aid of the Resistance movement and in the dropping of S.A.S. troops. He played a particularly outstanding part on Operation "FABIAN" and his skill and
devotion to duty contributed to the material success of that operation. His enthusiasm for operations against the enemy has been unbounded and his skill and ability in the air have at all times been an inspiration to the personnel of the squadron."

Awarding 501G., Royal Decree No.27
Flight Lieutenant Bassarab Mentioned in Dispatches Twice
Operation Fabian
This operation took place from September 19th, 1944 to March 14th, 1945. A small group of the Belgian Independent Parachute Company, commanded by Lt. G.S. Kirchen was to conduct sabotage, and collect intelligence about German troop movements and locations of V2 installations. They operated from Arnhem.
As Navigator, Flight Lieutenant Bassarab played a key role in dropping of Belgian S.A.S. fighters and then re-supplying them, usually at night over enemy territory.
Squadron 437, Royal Canadian Air Force, Transport Command
The RCAF had two Transport Squadrons in August, 1944, #435 and #436. They were formed in India and did regular supply drops to Allies fighting the Japanese. Also, many Canadians served in Royal Air Force (RAF) Transport Command.
In August 1944, it was decided an additional Transport Squadron was needed for the European Theatre and 437 Squadron was formed. It would operate as "… part of No. 46 Group, Royal Air Force (RAF) Transport Command." (RCAF History)
437 Squadron was formed in late August and early September, 1944 at RAF Station, Blakehill Farm. Nine crews took part in Operation Market Garden. By September 14, 1944 enough RCAF crews who were serving in RAF Transport Command transferred to 437 that they were able to take part in Operation Market Garden.
Five 437 aircraft were shot down or crashed during Operation Market Garden. Many men were wounded and others were taken prisoner.
Two Waves
As noted, Gliders and Paratroopers were taken to the Arnhem area in Two Waves, the first on September 17 and the second on September 18, 1944. After that transport aircraft flew re-supply missions.
When Operation Market Garden was over, RCAF Squadron 437 lost 12 men. Other non-RCAF personnel were either killed or captured.
Among those killed flying with 437 Husky Squadron, RCAF were:
J38773 Flying Officer William Stewart McKlintock, Navigator, Age 21. William was a graduate of Scott collegiate, Regina. He was working as a teller for the Bank of Nova Scotia when he enlisted.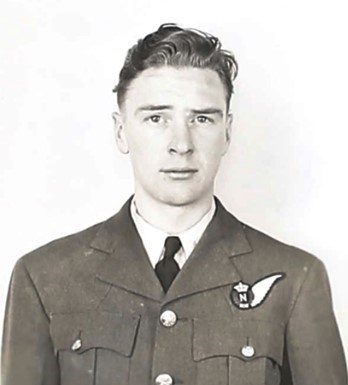 J35991 Flying Officer (Charles) Herbert Cressman, Pilot, (Captain) of Dakota KG489, Age 27 from Saskatoon. He was working in a mine in Geralton, Ontario when he enlisted in 1941.
F/O Cressman had no known grave and was remembered at the Memorial at Runnymede.
That changed in the 1990s. Two local dudes, from Eerschot, Sint-Oedenrode Municipality, Noord-Brabant, Netherlands named Mr. Lex Roell and Jan Hey determined that an 'unknown grave of a British Airman' was, in fact the grave of Flying Officer Charles Herbert Cressman.
Cressman was first buried in a farmer's field near the house of Mr. L. van de Van, near the wreckage of the aircraft. Identification was determined in 1996.
The information from Roell and Hey was given the to Commonwealth War Graves Commission. On Monday, August 24, 1998 a proper headstone was placed on Flying Officer Charles Herbert Cressman's grave. The headstone includes, "Believed to Be".
Dakota KG489 crashed in flames killing all 8 on board; 4 RACF crew and 4 RAF men from 799 Air Despatch Company, responsible for dropping the supplies.