With 15 Wing situated closely on our southern flank, the folks that serve in the military ranks there often become friends and are remembered fondly when they leave this area to serve their country in other locations.
Happily we often hear about their accomplishments after they have moved on and usually up in the ranks of the Canadian Armed Forces. When possible I read the list of names in Canadian military magazines and smile with delight when familiar names are on the lists of promotions and honours.
For instance, Chief Warrant Officer Marlene Shillingford has won the Trailblazer Award from the Northern Lights Aero Foundation based in Markham, Ont. Announcement of the award was made earlier this month and the presentation will take place at an awards banquet Oct. 22 in Richmond Hill, Ont.
Eight women in aviation will be honoured that day with the Elsie MacGill Awards, honouring Canadian women who have made outstanding contributions in aviation and aerospace. MacGill was an aviation pioneer and human rights advocate.
On her Facebook page, Chief Marlene has this to say: "I'm so honoured and humbled to have been nominated and to be receiving this very prestigious Elsie MacGill Trailblazer award."
She went on to thank her colleagues for the nomination and acknowledged her role models and mentors who "led me through this 36 year journey of a pretty awesome career in the RCAF."
Marlene is currently Division CWO at 2 Canadian Air Division in Winnipeg, after serving as 15 Wing's Chief Warrant Officer for two years. She has many highlights in her career, one of which came in 1992 when she became the first female technician with the CAF Snowbirds. In 2006 she was named the first female crew chief. In 2014 she was invested into the Order of Military Merit and was promoted to her current rank in 2017.
In addition to service throughout Canada, Marlene was deployed to South West Asia, Germany and Afghanistan.
Congratulations Marlene for receiving the Trailblazer Award and being a role model to other women contemplating or already involved in an aviation career.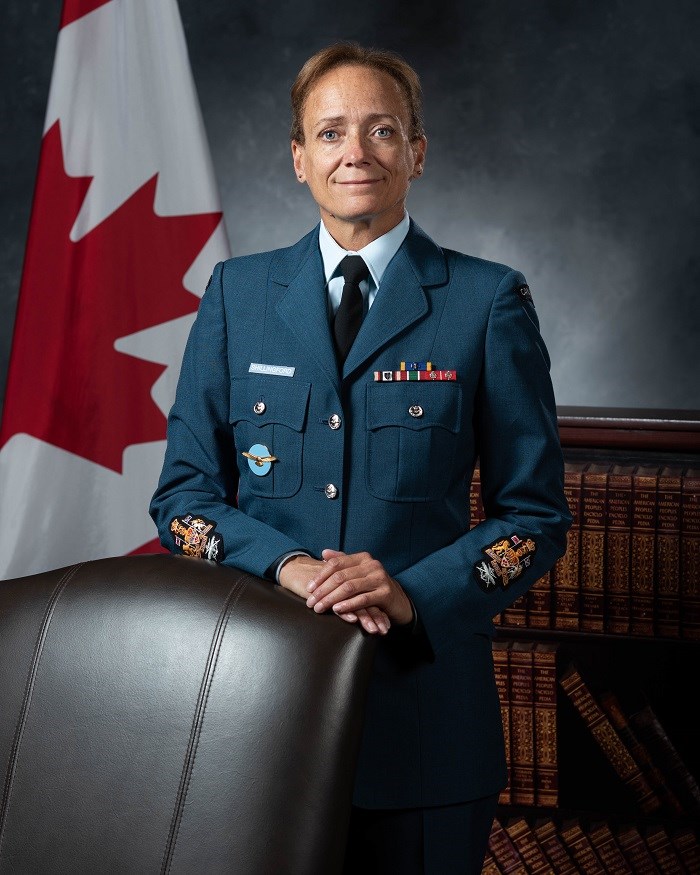 • • •
George Miller, commanding officer of Canadian Forces Base Moose Jaw from 1985-1988, was also in the news in mid-May when the 87-year-old flew his 1947 Navion aircraft across Canada to land it for the final time, ending a 68-year aviation career.
Miller donated the aircraft to the New Brunswick Aviation Museum where it will be displayed along with such memorabilia as his flight suits from the Golden Hawks and the Snowbirds.
After a long and distinguished career in the RCAF, Miller was inducted into the Canadian Aviation Hall of Fame in 2015. His induction was based on being an outstanding leader and pilot who served for 35 years in the RCAF during which time he was a solo pilot for the Golden Hawks in 1962.
He began leading the Snowbirds in 1973 and according to hall of fame information, "his influence with the Snowbirds was immediate as he began nine-plane formation aerobatics, implemented formation changes during manoeuvres, introduced new team uniforms and social dress for air and ground crews and a new paint scheme for the Tutors."
Following the 1974 season he was appointed commandant of No. 2 Canadian Flying Training School at CFB Moose Jaw.
After his military retirement, Miller continued to fly and maintained his involvement with airshows and air demonstration teams.
• • •
A listing in the Canadian Military Magazine reported that Brig.-General Denis O'Reilly, former Wing Commander at 15 Wing, was recently posted to Ottawa where he will be Chief of Staff to the Chief of the Defence Staff in Ottawa.
After leaving his position at 15 Wing, Denis, a Moose Jaw native, was named Commander No. 2 Canadian Air Division in Winnipeg.
• • •
Another name also recently popped up, that of Col. Ron Walker, another former commander of 15 Wing. He has been named an Air Force advisor in London, England. He left Moose Jaw for studies in London.
• • •
Congratulations to these folks and thank you to them for their past service at 15 Wing/CFB Moose Jaw.
Joyce Walter can be reached at ronjoy@sasktel.net
The views and opinions expressed in this article are those of the author, and do not necessarily reflect the position of this publication.